Defense shares set to rise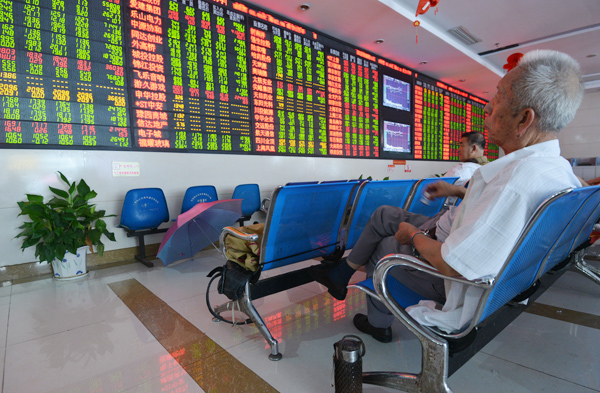 Investors check stock prices at a brokerage in Fuyang, Anhui province. On Aug 5, more than 30 stocks of defense-related, high-growth Chinese companies rose 5 percent, with nine of them hitting the daily upper limit. AN XIN / FOR CHINA DAILY
Analysts say low valuations, solid fundamentals, border standoff, movie are catalysts
Shares in high-growth Chinese defense companies whose current valuations are low may be in hot demand in the next two to three years, following a gradual improvement in industry fundamentals, experts said.
On Aug 5, more than 30 defense shares rose 5 percent with nine stocks, including Addsino Co Ltd, hitting the daily upper limit, following Sino-Indian border tensions.
The military standoff "is a catalyst" for the current rise in shares, but the defense industry's "endogenous development" has also begun, said Wang Zongchao, chief analyst of defense stocks with Huatai Securities.
"The border issue shows that we need a strong military to defend our territory and our weapons should be developed faster and better.
"The military-themed Chinese action movie Wolf Warrior 2, which received much attention and positive reviews, also tells us that a strong military can safeguard our construction achievements of the Belt and Road Initiative.
"Despite the small possibility of substantial conflicts (breaking out), we should continue to follow the impact on the sector as the situation changes."
The defense industry as a whole is undervalued compared to others' market value, Wang said.
The price-to-earnings ratio of the CSI Defense Index has plunged to 96.78 from its peak of 200 in 2016.
Defense shares have been plummeting this year with most of them back to their historical lows.
Shares in Addsino Co Ltd, a company that provides IT solutions for the defense industry, closed at 9.79 yuan on July 21, this year's lowest point and down more than 43 percent from the Jan 6 peak.
Shares in some high-quality defense companies are trading low compared with their valuations earlier this year. This suggests the defense sector in the A-share market has potential for growth, said a research report from Huashang Fund.
With institutional reforms and civil-military integration progressing briskly in China, this year is likely to be the starting inflection point for the defense shares' performance, which means listed companies in the sector are investable, said Gao Song, an analyst with CITIC Securities.
"Of course, the actual movement in the share prices is hard to predict as that will be determined by the market's risk appetite, and some special events and themes. We forecast only from the industry fundamentals."
Growth in the defense budget is expected to bottom out next year before rebounding. So, the military system reform has been already priced in by the market, and the focus is on improving the sector fundamentals, according to a research note by China Securities.
On July 7, at a conference held by the State Administration of Science, Technology and Industry for National Defense, China's 41 defense research institutes announced they have begun the process of becoming companies or independent legal entities.
These research organizations have leading-edge technologies in their sectors, and strong research and development capabilities.
Huatai analyst Wang, who focuses on research of listed companies in the defense sector, said: "Putting these institutes on a commercial footing can stimulate their vitality, and raise their overall productivity.
"With advanced technologies, the research institutes will increase the profitability and competitiveness of the already listed defense companies through capital infusion.
"We have a bullish outlook for the sector in the medium-to long-term, especially in aeronautics and astronautics, as well as high-end equipment.
"The continuous surge in defense production this year will last till 2019. Then, we expect to see a large amount of exports of defense products in the next two years (2020-21).
"Investors should pay much attention to the monopoly-like situation in the high-end equipment segment of the defense sector, which is in urgent need of a national strategy. The Chinese government will likely purchase more. In addition, reforms are expected in pricing and competition mechanisms related to high-end defense equipment."