Ping An identifies 5 areas for backing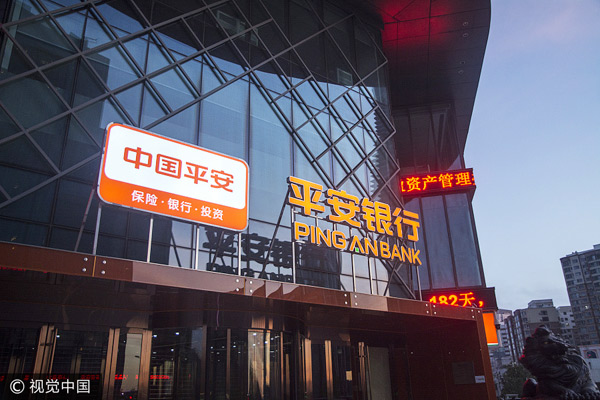 An outlet of Ping An Bank in Dalian, Liaoning province, May 7, 2017. [Photo/VCG]
Healthcare, education and tourism among beneficiaries
Ping An Bank said it will allocate more resources to support businesses in five key industries as the financial institution makes efforts to improve the quality of its assets and control risks.
The industries are healthcare, electronic information, high-end equipment manufacturing, tourism and education.
"Those sectors are closely linked to people's lives and are highly related to our business," said Xie Yonglin, chairman of the Shenzhen-based bank, which is listed on the Shenzhen Stock Exchange. "We will allocate more resources to support them in the future."
Xie made the remarks in Shenzhen at a Friday news conference.
The non-performing loan ratio of the bank rose 0.02 percentage points to 1.76 percent in the first half of 2017 compared with the end of last year.
The ratio for corporate lending grew 0.22 percentage points to 2.09 percent over the same period.
In the first six months of this year, the bank recovered 4.4 billion yuan ($660 million) worth of non-performing assets, increasing 67 percent year-on-year.
Ping An Bank still faces pressure on improving its assets quality and the company will take active measures to control the risk, Xie said.
The lender said it will also promote financial innovations to support the real economy.
Hu Yuefei, president of the bank, said the company has been making financial innovations to offer diverse services to its customers, including those involved in manufacturing and trade, by taking advantage of such advanced technologies as big data and artificial intelligence.
Approximately 1.2 billion yuan were poured into technological development over the first half of this year, representing 20 percent of annual growth.
Liu Guohong, director of the Finance and Modern Industry Research Center of the Shenzhen-based think tank China Development Institute, said it is sensible for Ping An Bank to abandon its extensive development mode to focus on specific industries.
"By doing so, the bank will be able to control its nonperforming loan ratio actively, rather than dealing with the issue passively," Liu said.
It will also help the bank become more professional, thereby increasing its competitiveness, he added.
Ping An Bank generated over 54.07 billion yuan in operating revenue in the first half of 2017, down 1.27 percent from a year earlier.
Net profit of the company was 12.56 billion yuan over the same period, growing 2.13 percent year-on-year.
Retail business saw robust growth, accounting for 40 percent of the company's total operating revenue and 64 percent of its profit.