Thriving marble business is built with the help of BRICS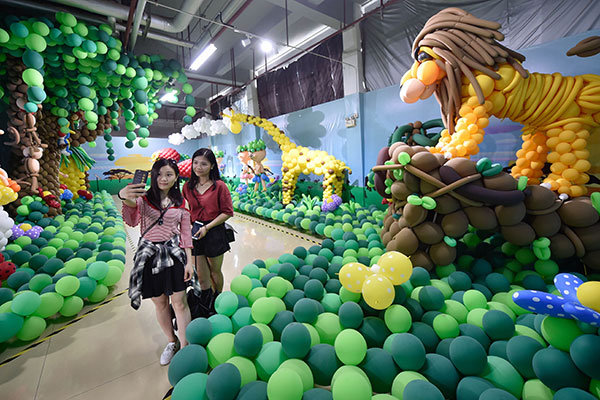 Two visitors take photos at the BRICS Summit theme park in Xiamen, Fujian province.[Photo/Xinhua]
XIAMEN-Young Brazilian businessman Marcos Caldeira is filled with anticipation as the 2017 BRICS Leaders Summit draws near.
Caldeira runs a marble business in China and knows how important the country's ties are with the Latin American nation.
"The BRICS Summit will further strengthen trade between Brazil and China and is a great opportunity for me to expand my business," he said about next month's summit.
Caldeira came to Xiamen City in east China's Fujian Province from Vitoria in eastern Brazil two and a half years ago to learn Mandarin.
He found the Chinese coastal city very familiar since it is similar in climate and environment to his hometown.
Inspired by the pro-business environment in the city, Caldeira soon started his own business for exporting Chinese stone products to South America.
Xiamen, a major trade port in Chinese history, is China's largest stone import center, while Brazil is a major stone exporter. But Caldeira imports processed marble products from Xiamen, and sells them to Brazil and other overseas markets.
"Brazil is rich in stone, but the prices are high. The quality of China's artificial stone is very good and much cheaper, and is very popular in Brazil," he said.
In only two years, Caldeira's business has grown into one of the largest companies in China that export marble to Brazil. Its export value reached more than $10 million in 2016.
The BRICS countries-Brazil, Russia, India, China and South Africa-have become a major driving force in the global economy. With 44 percent of the world's population, the five account for nearly one-quarter of global economic output and half of the world's economic growth.
Caldeira said the BRICS countries are playing an increasingly important role in trade, not only driving regional growth but also helping to lift the global economy.
"I hope the BRICS Summit can further promote trade between Brazil and China and reach more reciprocal deals," he said.
In addition to finding success, Caldeira has also found love in China. He and his wife have just moved into a new house during the Spring Festival.
"China is my lucky place, and Xiamen is where my happy life unfolds. I love Xiamen," Caldeira said. "I believe my business will be even better this year."
In addition to the growing share of the BRICS economy as a part of global gross domestic product, or GDP, trade between the countries is also expanding rapidly.
In the first half of this year, China's imports from the other four BRICS countries exceeded $70 billion, 33.6 percent higher than the same period last year.
Chen Tanxiang, a general manager of a textile company in Xiamen, has benefited from the close ties between BRICS countries.
In 2010, he switched from making plastic bags to manufacturing non-woven fabric, a then-emerging industry. But the sector became blighted by overcapacity, so he decided to expand his business to Africa.
Chen entered the South African market in late 2012 at an exhibition in Johannesburg, and his company has developed steadily in the country.
He built a sales network with local stores, wholesalers and agents, providing products, including disposal and shopping bags, and storage supplies. The annual sales volume of his company grew from $100,000 in 2012 to more than $2 million dollars today.
For him, the BRICS Summit between Sept 3-5, means more business opportunities.
"The BRICS Summit to be held in Xiamen is a great chance for South Africans to know the city and will bring trade ties between Fujian and the BRICS countries even closer," Chen said.
"Many African countries have limited the use of plastic bags, so I hope I can replicate my business model in South Africa in other countries of the region," he said.