Machinery makers riding B&R to big growth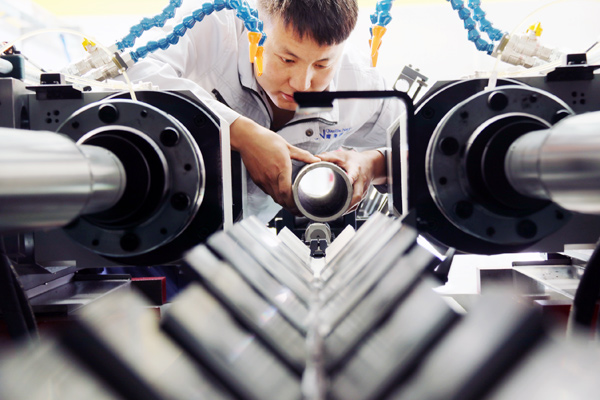 A technician operates a high-tech production line in Xuanhua, Hebei province. CHEN XIAODONG / FOR CHINA DAILY
Chinese machinery manufacturers' revenue is expected to grow 8 percent to 26.51 trillion yuan ($3.94 trillion) this year on the back of the Belt and Road, or B&R, Initiative, potentially reversing two years of export slowdown, industry officials said on Tuesday.
In the first half of this year, exports of Chinese products such as automobiles, construction machinery and equipment for mining, oil drilling and power industry grew nearly 7 percent year-on-year to $193.5 billion, according to the China Machinery Industry Federation.
Their imports increased almost 12 percent to $142.7 billion.
Overall sales revenue of machinery manufacturers reached 12.51 trillion yuan, up 11.6 percent year-on-year.
Fixed-asset investment in the sector grew by 4.61 percent to 2.35 trillion yuan.
Last year, exports dropped 3.6 percent year-on-year to $374.8 billion, while imports fell nearly 2 percent to $272.7 billion.
In 2015, exports dropped 3 percent year-on-year to $388.76 billion, while imports fell 14 percent to $277.75 billion.
In the key construction machinery sector, excavator output surged 70 percent year-on-year in the first half of this year, indicating the sector has entered another replacement cycle after its last peak year in 2011.
Excavator manufacturers do not have much stock after a five-year period of consumption, industry insiders said.
Chen Bin, executive vice-president of the Beijing-based CMIF, said domestic machinery manufacturers have made notable technological breakthroughs.
The achievements will help them to supply products to big-ticket projects like smart cities, nuclear power plants, ultra-high-voltage supply lines, hydro-electric plants and wind power farms.
The federation said the construction machinery segment will continue to grow robustly in the second half of this year, thanks to China's ongoing railroad, highway, airport projects in lower-tier cities as well as urbanization.
Growth opportunities will also come from the increasing demand for excavators, bulldozers, pipe-layers, road rollers and wheel loaders in the B&R markets.
Such demand is particularly strong in fast-growing markets such as Saudi Arabia, Ethiopia, Kenya and Brazil.
The B&R markets' focus is on sustainable development, urbanization, industrialization, services and telecommunications.
Chen said: "Chinese construction machinery makers have already shifted their focus from selling their products to developing markets through dealerships to building after-sales service centers and staff training centers overseas. They are also printing user manuals in French, Portuguese and Russian.
"Both domestic and global markets are no longer dominated by foreign companies in many important high-tech fields. All the core parts for the country's new-generation Hualong One nuclear reactor are made by domestic players."
Zhao Chi, secretary-general of the CMIF, said: "As many developed countries adopted trade protectionism measures to protect their own industries, diversifying market channels in countries and regions participating in the Belt and Road Initiative has helped companies ease export pressure.
"Weak domestic demand for machinery from industries like steel, coal, power, oil refining and chemicals will be a long-term phenomenon as all of these sectors readjust their product development focus."