Fighting to rule the ultimate online kingdom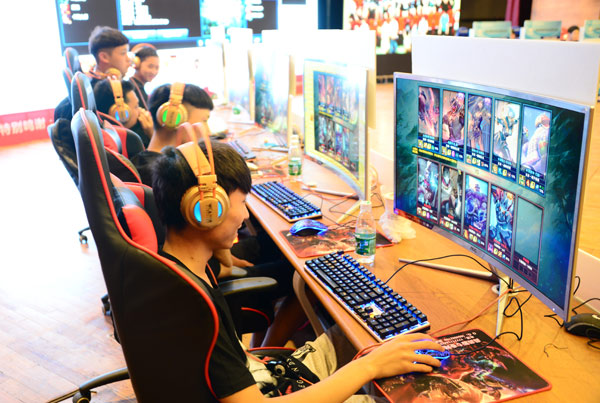 Top gaming players from different cities gathered in Wuhan, capital of Hubei province, to play in a League of Legends competition in September 2016. [Photo provided to China Daily]
Chinese video game companies are playing for high stakes. As the global gaming market enters an increasingly mobile era, they are being forced to adapt to an industry which is moving toward free-to-play.
One of the latest sector reports by London-based venture capital firm Atomico showed that China surpassed the United States as the gaming capital of the world by revenue last year, topping $101 billion. Up to 38 percent of that revenue came from mobile gaming.
Competition is as fierce as it has ever been and while Chinese mobile game companies fight to stay on top, foreign rivals are trying to muscle in.
Still, one question is on everyone's mind: How to make money on free-to-play games?
"The transition toward the free-to-play monetization model has been absolutely critical," said Tom Wehmeier, principal and head of research at Atomico and author of its report.
Last year, gaming revenue in China reached $24.6 billion, the highest in the world.
It surpassed the US by $500 million and Europe by $4.3 billion, according to Atomico's report, Europe Meets China-How The Games Industry Is Evolving.
The country's status as a global games giant is largely due to Tencent Holdings Ltd, the Shenzhen-based creator of WeChat and QQ.
The online group already has a war chest of successful foreign titles such as Riot Games' League of Legends.
Domestically, its multiplayer internet blockbuster production King of Glory, also known as Honor of Kings, is expected to contribute more than 50 percent of Tencent's mobile game revenue this year, according to Bloomberg.
"One thing that is perhaps not understood outside of China is just how much of a rich tradition there is in terms of the local Chinese game developer community," Wehmeier, of Atomico, said. "These guys produce some of the best content in the world."
A snapshot of mobile game King of Glory played by a fan in Dezhou, Shandong province. [Photo provided to China Daily]
King of Glory, a free game with online purchases similar to League of Legends, grossed $435 million in April, with projected annual revenue of $5 billion, according to Atomico's report. The game is one of the highest in downloads and revenue on the Apple iOS store, according to App Annie.
Smash hits, such as King of Glory, are the potential rewards for foreign gaming companies who "get it right" in China, according to Wehmeier of Atomico.
"There is no reason why a foreign game (company), given the right partners …couldn't go on to achieve that level of success," Wehmeier said. "The risks are big but the risks can be mitigated given the right approach."
Mobile gaming revenue is all about the small percentage of the global audience paying up to $1,000 per month. These are known as "Whales", according to Eylon Aviv, partnership manager for iron-Source, an Israeli mobile app monetization company with offices in Beijing.
Less than 1 percent of mobile players contribute nearly half of the revenue made from all in-game purchases, according to a study by Swrve, a mobile marketing engagement platform.
In other words, game developers have to balance satisfying the small percentage of high-paying users, while monetizing the majority who do not pay.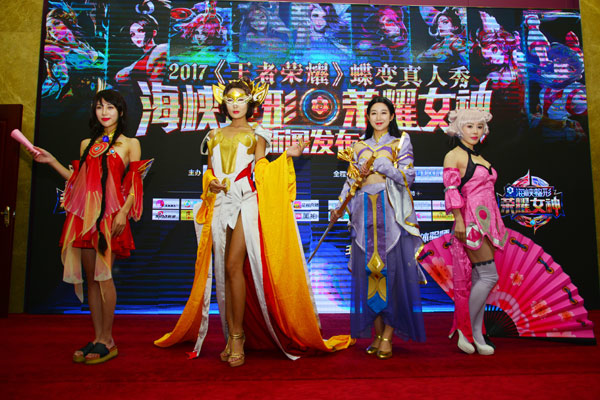 Four women cosplay the characters in the popular game King of Glory in Jinan, Shandong province. [Photo by Yi Sheng/For China Daily]
In Asia, where the percentage of paying players is lower than anywhere else in the world, average in-app-spending is $20 per month. That is double the global average, according to a study by Israeli mobile app analytics company Appsflyer.
According to a video produced by Vox news, entitled How Free Games Are Designed To Make Money, in-app-spending titles use exchange rates that will confuse any average player.
"You're spending money that doesn't seem real and it only takes a second because the app store already has your credit card," Joss Fong, senior editorial producer at Vox, commentates in the video.
"The whole payment process is designed to be painless," she adds. "Other parts of the game, however, are designed to be painful."
But there are other ways for mobile game companies to make money. IronSource helps advertisers and game firms profit from players who simply do not make in-app purchases by running pop-up advertisements with in-game prizes.
Advertisers, for example Airbnb, can increase traffic to their sites, while gamers receive rewards by watching a 15 to 30 second video, according to Aviv of ironSource. These ads may also allow users to play the first level of a game, such as Candy Crush Saga, getting them interested in the title before supplying a link to download it.
"People are coming back to the game because they're able to progress more," Aviv said. "They don't feel like, 'If I don't pay, I can't play this game'."
As a result of China's growing status in the mobile gaming industry, foreign companies are keen to crack it, even though it is the most difficult market to enter, according to Wehmeier of Atomico.
"Companies that ultimately go on to have success … what they have understood is that while content is critical, distribution is king," Wehmeier said.
Game developer and Farmville creator Zynga showed that, without a local partner, foreign companies struggle to compete in China. With its US operations also hitting financial lows, Zynga decided to close its Beijing office in 2015, cutting 71 jobs.
But the California-based firm could be on track for a turnaround as it partners with Tencent's rival, NetEase Inc, to bring the mobile strategy game Dawn of Titans to China later this year.
Zynga declined to comment on its motivation to introduce the game to an overseas market.
But it stated in May that the company is "excited to see how local action strategy fans make it (Dawn of Titans) their own".
There is a strong appetite for international content, according to Wehmeier of Atomico.
In 2015, Tencent bought Silicon Valley-based gaming company Riot Games, producers of League of Legends, which had 100 million monthly players last year, according to a Forbes report.
Riot Games, now a branch of Tencent, declined to comment on the game's success in China.
Blizzard Entertainment's battle cards game Hearthstone, which originated in California, has also gripped Chinese players, with its competitive championship having just wrapped up in Shanghai.
"It's possible today to build game companies worth tens of billions, if not a hundred billion (dollars)," Wehmeier said. "If you have the ambition to get to that scale, if you truly want to become a global giant that's on par with some of these Chinese players, you simply can't afford to ignore the Chinese market."
Mark Marino contributed to this story.