Wanda signs deal with Sunac, Guangzhou R&F to sell hotels, projects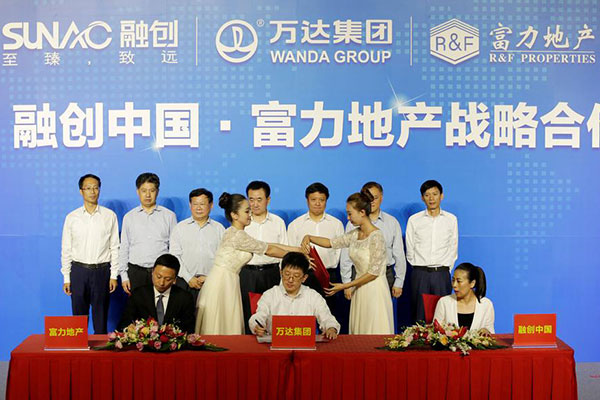 Chairman of Dalian Wanda Group Wang Jianlin, Chairman of Sunac China Holdings Ltd Sun Hongbin and Chairman of R&F Properties Li Silian attend a strategic cooperation signing ceremony in Beijing, July 19, 2017. [Photo/Agencies]
Chinese commercial property conglomerate Dalian Wanda Group signed a deal with Sunac China and Guangzhou R&F Properties in Beijing Wednesday.
In a joint announcement, Wanda said it would sell 77 hotels in China to Guangzhou R&F Properties for 19.9 billion yuan ($2.95 billion), and a total of 91 percent equity in 13 tourism projects to Sunac China for 43.84 billion yuan.
Under the original deal announced last week, Wanda would sell to Sunac 76 hotels for 33.6 billion yuan and the stake in the tourism projects for 29.58 billion yuan.
After the deal, the debt of Dalian Wanda Commercial Properties, the property unit of Wanda Group, would drop to 200 billion yuan from 400 billion last year, and its cash would increase to 170 billion yuan from 100 billion yuan, Wanda Chairman Wang Jianlin said.
Wanda Commercial said previously it planned to issue up to 12 billion yuan ($1.93 billion) worth of A-shares to fund five plaza projects in China, and submitted the prospectus in Nov, 2015.
However, the IPO underwrited by Galaxy Securities and China International Capital Corporation is still to launch.
After Wanda sell these assets, even though it is not belong to a major asset reorganization, its old prospectus also need an update, an anonymous insider of investment banking told 21st Century Business Herald on Thursday.
"Whether it needs to line up again for IPO approval or not depends on the stock regulator."
According to the latest IPO queue information released by the China Securities Regulatory Commission, Wanda Commercial ranked No 68, compared with No 65 a week ago.
In fact, the reason why Wanda Commercial's IPO has little progress is also related to the IPO policy of real estate enterprises, the newspaper said.
Regulators have strictly control financing of real estate enterprises, including IPO and bond issuing, the insider said. Since 2010, only two real estate companies - China Merchants Shekou Holdings and Future Land Holdings Group - successfully listed in the A-share market in Dec, 2015.
Media previously reported that the deal may mark a step closer for Wanda Commercial to relist on the mainland and cash in on higher valuations on domestic markets after it delisted in Hong Kong last year.
However, 21st Century Business Herald said it may be difficult for Wanda Commercial to give up its "real estate" tag.
Even after some hotels and tourism projects are sold, Wanda Commercial still owns many Wanda Plaza in China. In its prospectus, the company said it is world's second-largest commercial property owners and domestic largest shopping center and luxury hotel owner.
Also, Wanda Commercial is identified as a real estate enterprise, according to the latest IPO lineup information.