Wanda opens third theme park as it aims for 20 by 2020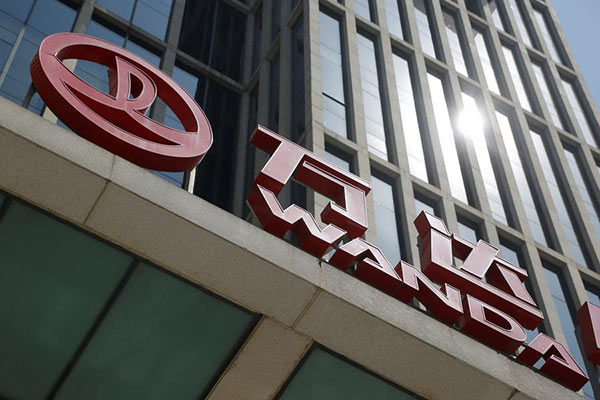 Dalian Wanda Group's Wanda Plaza building is pictured in Beijing, May 17, 2016.[Photo/Agencies]
One of China's largest business conglomerates, Wanda Group, has opened its third theme park in Harbin, Heilongjiang province, in its latest effort to venture into the leisure industry.
Harbin Wanda City, the largest recreation project in the country's northeastern region, will include Russian-style theme park facilities, a movie theater and the world's largest indoor skiing and snow entertainment park spanning 1.5 square kilometers.
The 40 billion yuan ($5.8 billion) development in Harbin Songbei New District, is Wanda's latest commitment to the country's booming leisure industry.
The China National Tourism Administration expects the industry to grow to 10 trillion yuan in the years to come.
Wanda Chairman Wang Jianlin spoke at the opening ceremony in his first public appearance since unconfirmed rumors spread last week suggesting the China Banking Regulatory Commission may be investigating the firm's offshore loans.
When opening its first Wanda city in Nanchang in May 2016, Wang Jianlin revealed his ambitious plan to develop as many as 20 Wanda Cities nationwide by 2020. Other destinations earmarked for Wanda cities include Chengdu, Wuxi, Guangzhou and Chongqing.
According to industry consultancy Aecom, a total of 59 new theme parks will open in China by 2020, serving an estimated 220 million park-goers and rivaling the United States in terms of scale.
Behind the wave of theme parks is China's growing middle class, which is fueling demand for leisure activities. There are about 300 parks in operation already in China, according to Macquarie Group.
Wanda group is reshuffling its business from real estate to become a conglomerate based on commerce, culture, internet and finance.
Income from Wanda's services businesses accounted for 55 percent of the company's total last year, exceeding its real estate sector for the first time, according to the company's annual report.