International investment and trade platform launched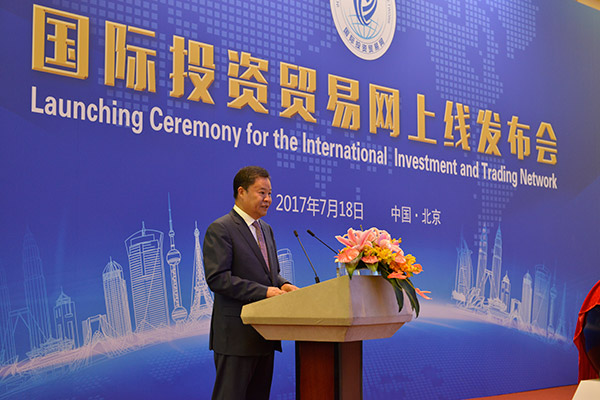 The International Investment and Trading Network was launched in Beijing, July 18, 2017. [Photo provided to chinadaily.com.cn]
The Council for Promoting South-South Cooperation (CPSSC), a Chinese national nonprofit organization, on Tuesday launched a major international investment and trade platform in a move to promote outbound investment and global infrastructure cooperation as China pushes forward the Belt and Road Initiative and "going global" strategy.
China's non-financial ODI plunged by 45.8 percent year-on-year in the first half of 2017. Although the total ODI dropped, outbound investment to countries involved in the Belt and Road Initiative increased by 6 percent year-on-year and accounted for 13.7 percent of the total ODI in the first half, data from the Ministry of Commerce showed.
A spokesman for the National Development and Reform Commission said that projects involved in the Belt and Road Initiative will be particularly encouraged.
The platform, namely the International Investment and Trading Network (IITN), will involve over 5,000 outbound investment and trade projects concerning global infrastructure construction, overseas parks, bulk cargo trading and production capacity cooperation in different countries, including those involved in the Belt and Road Initiative.
With experience in managing over 350 projects, the platform will provide companies with services such as project introduction, policy consulting, feasibility study, business investigation, negotiation and other tailor-made help. Companies can have access to first-hand information and comprehensive services to meet their particular needs.
Lyu Xinhua, chairman of the CPSSC, said that there lacks a fast, convenient and effective channel for information exchange between Chinese companies and their foreign counterparts.
"The platform will guarantee related information be released on time so that the supply and demand sides can communicate smoothly and cooperation projects will be docked successfully. It will also play a positive role in promoting Chinese equipment, technology and standards to 'go global'", he said.
According to the CPSSC , the platform has cooperated with over 130 partners, including a group of foreign diplomatic missions to China and Chinese diplomatic missions overseas, financial institutions and law and accounting firms, as well as consultancies to offer professional and all-around services.
Paul Chikawa, Zimbabwe's ambassador to China, said that China has put forward several win-win initiatives, including the Belt and Road Initiative, and that has brought many development opportunities for industrialization in developing countries in Africa and beyond.
"This new initiative of the CPSSC marks a new step forward on the part of the organization, in sync with efforts of the Chinese government to promote the Belt and Road Initiative that, among others, promotes international production capacity cooperation to provide service and support to Chinese and foreign enterprises in their investment and trade cooperation," he said.