TCM tourism attracts Russians to Hainan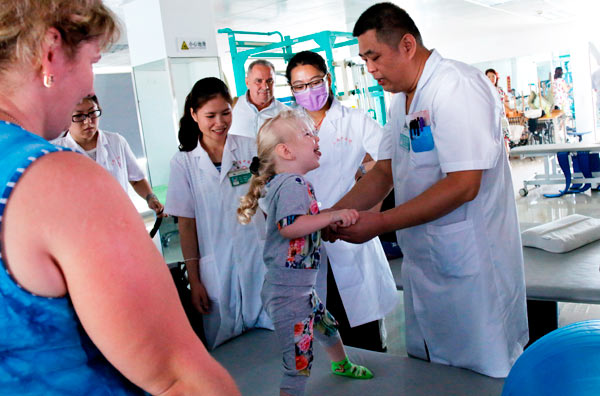 A Russian child with cerebral palsy gets treatment in Sanya Traditional Chinese Medicine Hospital last summer. [Photo provided to China Daily]
Nina Kudryavceva of St. Petersburg, Russia, has stayed in Sanya for one or two months every year for the past decade, traveling around as well as having a routine medical checkup and treatment at a local hospital.
"Traditional Chinese medicine works wonders, and we feel much better after each treatment. We also enjoy the local life and culture very much," said Kudryavceva, now on vacation with her husband, Alexey Kudryavcev, in the tropical Hainan province.
Kudryavceva, 68, and Kudryavcev, 72, look energetic and much younger than their ages, for which they attribute partly to the TCM healthcare functions.
Saren, director of the acupuncture department at the Sanya TCM Hospital, is known as "China Mom" to about 20 Russian children who were victims of the Russia Beslan School hostage crisis in 2004 and recovered after TCM treatments in Sanya in 2006 and 2008.
"Many of the kids, so impressed by their experience in Sanya, said they would like to learn TCM skills and culture when they grow up," said Saren, a doctor from the Mongolian ethnic group and a graduate of Beijing TCM University.
With more than 30 years of experience, she is one of the few Chinese doctors in Sanya who have impressed top leaders of other countries with their effective TCM treatments.
While indulging in the sunshine, golden beaches and the tropical features of Sanya, on the southern tip of Hainan island, more overseas tourists are visiting with a special purpose-the benefits of TCM.
Medical tourism, which according to one US research report is expected to bring in $678 billion this year worldwide, is gaining new momentum in Hainan, once a key stop on the ancient Maritime Silk Road and now a burgeoning international tourism destination thanks to policy support from the central government, according to Wu Ming, deputy director of the Hainan Health and Family Planning Commission and head of the provincial TCM administration.
He said the State designated Hainan as a pioneering region for TCM service trade innovation in 2014 and projected this year to turn the island into a national TCM service trade and healthcare tourism demonstration zone.
"Leading medical bodies such as Sanya TCM Hospital have actually pioneered the development of TCM healthcare tourism by taking advantage of the local natural environment and tourist resources, starting in 2002," Wu said.
He said the hospital provided tailor-made TCM services to Kazakh President Nursultan Nazarbayev, Tajik President Emomali Rahmon, Russian Prime Minister Dmitry Medvedev, Kyrgyz Prime Minister Zhantoro Satybaldiyev and dignitaries and ambassadors from 18 countries.
The hospital has been awarded an umber of diplomatic honors, such as from the Russian government for its contribution to China-Russia friendship through its treatment of the hostage crisis victims.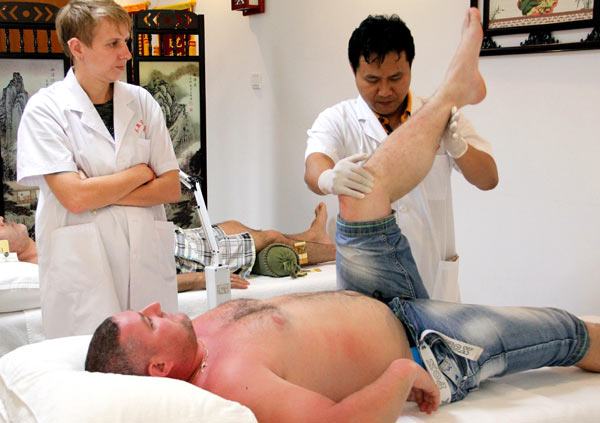 A Russian patient receives traditional Chinese medicine therapy at a hospital in Sanya, Hainan province, in February. [Photo provided to China Daily]
Around 50,000 foreigners mostly from Russian-speaking countries and northern Europe and some from Canada, the United States, Turkey and Iran-have received high-end tailored TCM therapies that eased or cured their illnesses, while traveling in Sanya since the healthcare tourism effort began in 2002, according to statistics from the hospital.
"Among people living in a frigid climate, there is a high incidence of nerve diseases such as cerebral palsy, respiratory system problems like asthma, motion system problems such as hip-joint and knee-joint problems, for which TCM therapies have good curative effects," said Wang Tiansong, president of the hospital, which cooperates with five Russian medical institutions and companies in addition to a number upcoming ties with medical centers in Russia, Sweden and Malaysia.
"The natural climate advantages that are essential to good health, the effectiveness and low cost of TCM resources that make TCM strongly competitive and the natural means of treatment that are gradually favored by more and more Western tourists promise bright prospects for medical tourism in Hainan."
Sanya hospitals are becoming hot spots for visits by those from both domestic and overseas medical institutions and agencies seeking experience and opportunities of cooperation.
Roshal Leonid Mikhailovich, president of the Russian National Medical Commission, spoke highly of Sanya's medical capabilities and its integration with Western medicine during a recent trip to inspect medical projects for rehabilitation and treatment of children with cerebral palsy in Sanya. He said the Russian commission had signed a framework on medical and healthcare cooperation with provincial health authorities, adding that he hoped to import Chinese medicine technology to Russia.
Another team of Russian experts, headed by C. Rosoff, an academician with the Russian Academy of Medical Sciences and director of the Far East Respiratory Diseases Research Center, found broad prospects for cooperation with Sanya in the prevention and rehabilitation of respiratory diseases and the management of chronic diseases.
"I would like to come to Sanya to conduct clinical, research and education work," he said, after a recent visit observing the development of Sanya hospitals, the Phoenix Island cruise economy and island vacation centers.
"A number of other overseas agencies and companies also have shown interest in conducting cooperation of TCM service trade with our hospital, which is serving as a Sanya model for TCM healthcare tourism," said Wang of the Sanya hospital, which has a team of 198 veteran doctors.
Wang said his hospital will set up rehabilitation and healthcare centers to make full use of the precaution and healthcare functions of TCM to cope with health issues that affect people, such as insomnia, depression, anxiety and lumbar and cervical vertebra problems.
"More medical institutions, especially public hospitals, will actively engage in promoting the TCM service trade, after the designation of more demonstration bases" to promote TCM and tourism by the provincial authorities earlier this year," said Wu, head of the provincial TCM administration.
Government management and supervision of the TCM services also is being improved in the province.
"Hainan soon will release a set of regulations to help standardize and guide the innovative, healthy and sustainable growth of the TCM service trade and healthcare tourism in Hainan, cultivate more local brands and projects and promote internationalization of TCM by encouraging local medical bodies to open overseas TCM services on a cooperation basis," Wu said.
He said five provincial level workrooms will be open in Hainan to help attract famous doctors from around the country who could assist in attracting TCM talent and ensure quality services to overseas tourists and promote the overseas TCM services trade.
"Hainan, which has developed advanced technologies for growing southern herbal medicine, will also conduct more cooperation on growing, research and development of southern Chinese medicine with southeastern Asian countries under the Belt and Road Initiative and help build international teams to ensure sustainable utilization of southern medicine overseas," he said.
"While learning from countries with good medical tourism experience such as Japan, Thailand, Singapore and South Korea, Hainan will put emphasize on developing light medical tourism products that highlight Hainan's natural resources, such as hot spring spas, TCM massaging, forest hiking and golfing," said Sun Ying, director of the Hainan Tourism Development Commission.
"Cooperation with the World Medical Tourism Association, the World Society of Anti-Aging Medicine and the China Health Management Association will be strengthened to introduce international service brands."