Coty's skincare line jumps on Tmall bandwagon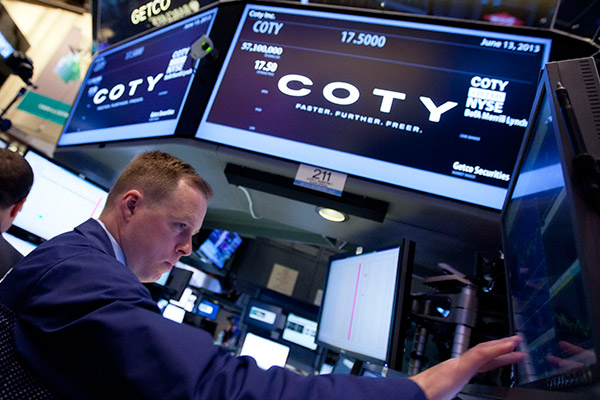 Traders work at the Coty Inc booth on the floor of the New York Stock Exchange. [Photo/Agencies]
The thriving Chinese middle class and its huge spending power keep attracting more foreign brands to open stores here, but unlike the traditional method of entering a new market, many brands opt for establishing their presence on the giant Tmall, a B2C marketplace owned by Alibaba and regarded as the dominant force in China's e-commerce world.
One of the latest to join the trend is New York-based Coty Inc; its philosophy brand enters the Chinese market on Saturday, with its initial presence on the Tmall site.
Camillo Pane, CEO of Coty Inc, said the company is launching its US skincare brand on Tmall because officials believe this is now the best way to reach young Chinese consumers.
"It is just the beginning," Pane said, adding that company officials have plans for introducing other Coty brands onto the Tmall storefront.
"It's no doubt that we are going to strengthen our capability in e-commerce; this is our current focus," said the CEO.
He noted that the digital channel is especially helpful in enabling companies to reach their consumers in smaller cities, which contribute most of the growth.
Qi Xiaozhai, director of the Shanghai Commercial Economic Research Center, noted that "many brands in China take their products online first, which, in my opinion, is a safer choice especially in consideration of the much higher cost of going to brick-and-mortar store."
"Brands can learn the actual market demand, consumers' preferences in a specific market, and make follow-up expansion plans accordingly. From the perspective of consumers, they also need time to know and accept a new brand. So the online platform is an ideal venue for their meeting," Qi said.
The popularity of smartphones has enabled 70 percent of Chinese consumers to choose buying beauty and personal care products online instead of physical stores for convenience and lower prices, and 37 percent of people polled said they will go online for homework before making a purchase, according to a report from Mintel Group Ltd.