Mobile literature hits pay dirt as millennials bookend market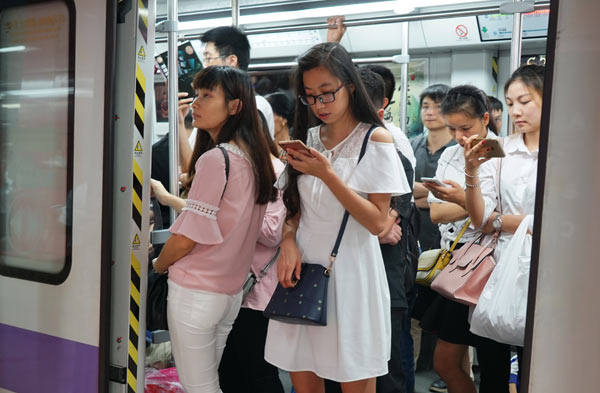 Passengers read e-books on mobile devices on a subway train in Guangzhou, Guangdong province. [Photo by Zhang Yang/For China Daily]
A new business has emerged in China that makes money by serializing and publishing digital literature, including novels, for users of hand-held devices.
One such work, Ten Miles of Peach Blossoms, based on hit stories originating on the internet, has hit pay dirt and highlights the boom in the new business.
Aspiring authors now serve numerous literary works to millions of online readers through platforms such as China Reading, a literature-focused arm of Tencent Holdings Ltd, which is best known for its all-in-one app WeChat.
A recent report by iResearch Consulting Group said a growing number of Chinese are reading e-books on mobile devices rather than PCs. Some 265 million Chinese read e-books on mobile devices and 217 million read e-books on PCs, it said.
Evidently, Chinese millennials have fallen in love with online literature as devices, mobile internet technologies and software make on-screen reading pleasurable and convenient.
To monetize the potential in the trend, Tencent last week confirmed it would spin off China Reading and list the e-book publisher in Hong Kong, offering 15 percent stake to public while retaining a majority stake (which is currently over 65 percent).
"Reading is no longer confined by time and space. We're now entering a brand new age to embrace the online reading trend," said Zhu Jing, vice-president of China Reading.
Founded in 2015, the company boasts 4 million novelists on its contributor list and 600 million users in China. The more than 10 million original novels for which it holds rights span nearly 200 genres.
Zhu said the company is building an international open platform aimed at offering better user experiences and seeking new momentum in the key market.
Early last month, the company announced it will establish a content cooperation industrial fund and spend 200 million yuan ($29 million) to support the long-term sustainable development of the publishing sector, including introducing better stories, supporting content producers and young talented authors.
The firm's open platform enables developers to include China Reading's content on their apps, creating new possibilities like sharing of content and revenue.
So far, China Reading has partnered with nearly 50 e-book platforms, including Baidu and JD.com.
The company said it has launched a multi-language site to translate some of the most successful online novels in China for overseas readers as it aims expand its multibillion-yuan business globally.
According to iResearch Consulting, subscription fees contributed most of online reading providers' revenues.
Last year, China Reading paid nearly 1 billion yuan to novelists, which proves the company owns a mature business model to support the operation, said iResearch.
Dong Qianqiu, general manager of the literature division at iQiyi.com Inc, said during an annual technology and entertainment conference in early June that online literature will become the mainstream in the future.
"The internet not only works simply as a medium but appears fashionable, trendy. With more than 300 million users who love reading digital literature, the market is worth 10 million yuan in China. Powered by online subscriptions and copyright trading models, the online literature market will grow rapidly in the future."