China's exports up 15%, imports up 25.7% in H1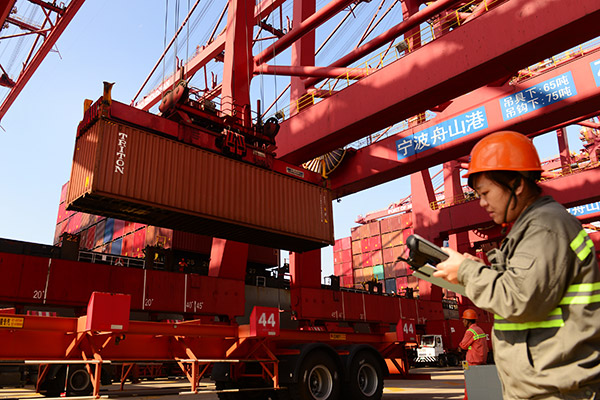 A worker monitors container operation at Zhoushan port in Ningbo, Zhejiang province. [Photo/China Daily]
BEIJING — China's foreign trade expanded at the fastest pace since the second half of 2011, buffering the economy from a slowdown amid headwinds at home and abroad.
Exports in yuan-denominated terms rose 15 percent year on year in the first half of this year while imports increased 25.7 percent, customs data showed Thursday.
That led to a trade surplus of 1.28 trillion yuan (188 billion U.S. dollars) in the same period, down 17.7 percent year on year, according to the General Administration of Customs.
Total foreign trade volume reached 13.14 trillion yuan H1, up 19.6 percent year on year, the quickest pace since the second half of 2011.
The brisk growth was bolstered by a lower comparison basis, government support and healing global demand, Huang Songping, a spokesperson with the customs authority, told a press briefing.
During the first six months, trade with the EU jumped 17.4 percent from the same period last year.
Meanwhile, trade with the United States and ASEAN went up by 21.3 percent and 21.9 percent, respectively.
Private businesses played an important role in foreign trade with exports and imports value up 20.6 percent to 5.02 trillion yuan in the first half, or 38.2 percent of the nation's total.
Most of China's exports were mechanical and electrical products and labor-intensive products.
Huang brought attention to a tough stance on foreign trade in the second half of this year due to a higher comparison basis, uncertainties in the global environment and deep-seated problems in the domestic economy.
Uncertainties weigh on the global market as major economies practice divergent monetary policy. Commodity prices and trade protectionism also add unpredictability.
As developed economies shore up advanced manufacturing and emerging economies strengthened on low-end manufacturing, China's exports are due to face more fierce competition in the global market.
But the strong fundamentals of China's foreign trade has not changed. They will continue with such good momentum, and the trade structure will be improved if no major risks are brought about, Huang said.
Regarding China's trade with Democratic People's Republic of Korea (DPRK), Huang highlighted the fact that China's imports from the DPRK had fallen substantially for four straight months.
"China has always abided by the rules of the United Nations resolution on a trade embargo with the DPRK ... It is a common responsibility of all UN members. China will carry out the practice in a consistent, accurate and stringent way." he said.