China's May exports up 15.5%, imports up 22.1%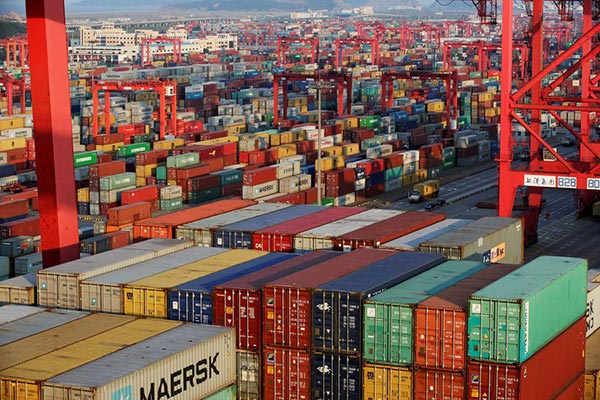 Container boxes are seen at the Yangshan Deep Water Port, part of the Shanghai Free Trade Zone, in Shanghai. [Photo/Agencies]
BEIJING - Both China's exports and imports surged in May, beating expectations, customs data showed Thursday.
Exports in yuan-denominated terms hit 1.32 trillion yuan ($194 billion) last month, up 15.5 percent year on year, higher than market expectations and the 14.3 percent growth in April, according to the General Administration of Customs (GAC).
Imports grew 22.1 percent in May, much faster than market forecasts and the 18.6 percent growth in April.
This led to a monthly trade surplus of 281.6 billion yuan, in contrast with a 262.3 billion yuan surplus in April. However, the May surplus declined 3.4 percent year on year.
Total foreign trade volume reached 2.35 trillion yuan last month, up 18.3 percent year on year.
May's data continued the growth in China's foreign trade since the beginning of the year.
In the first five months combined, exports increased 14.8 percent from a year ago to 5.88 trillion yuan, and imports jumped 26.5 percent to 4.88 trillion yuan, resulting in a 21.1 percent decline in the trade surplus.
During the first five months, trade with the EU jumped 16.1 percent from the same period last year to hit 1.6 trillion yuan. The EU is China's biggest trade partner, accounting for 14.8 percent of the country's foreign trade.
Meanwhile, trade with the United States, ASEAN and Japan went up by 21.1 percent, 23.2 percent and 17.5 percent, respectively.
Machinery, electronics and clothing exports rose in the first five months, while labor-intensive products such as fertilizer, steel and automobiles saw shrinking orders.
A leading indicator for China's exports increased from 40.7 to 41.1 month on month in May, signalling positive export potential.