China Railway to build Russia link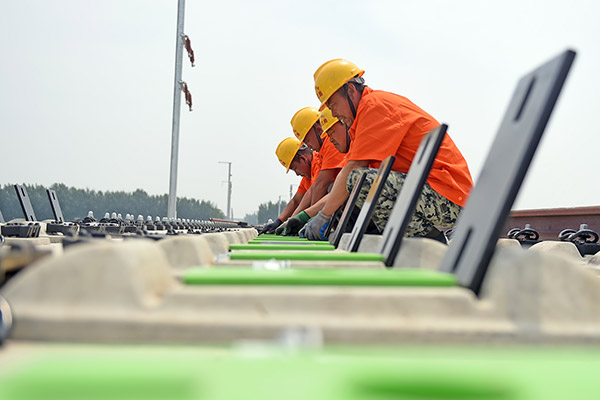 Technicians work at the Liaoning section of a high-speed railway in Northeast China's Liaoning province, June 17, 2017. [Photo/Xinhua] 
New high-speed line to connect Yekaterinburg, Chelyabinsk
China Railway Group Ltd, an infrastructure construction company, will build a high-speed railway in Russia connecting the country's third-largest city Yekaterinburg with Chelyabinsk, as the Chinese company's overseas business keeps expanding.
The project will involve a total investment of $2.5 billion, according to a memorandum of understanding signed between the Chinese company and Ural Highway during the Fourth China-Russia Exposition held recently in the northeastern Chinese city of Harbin.
The train is expected to run at a speed of up to 250 kilometers per hour, according to Russian media outlet Sputnik.
The high-speed rail link is expected to cut the current journey time between two cities to approximately one hour and 10 minutes from five hours, according to China Railway Group Ltd.
"It is a promising project with huge potential. We believe it will boost the region's economic development, and benefit local people after its completion," said Zhang Xian, vice-president of the company.
"The experience of the Moscow-Kazan railway positions us well in the industry. We are ready to make full use of our cutting-edge technology in this project."
The high-speed rail link has great potential, as it will be part of the high-speed transit corridor passing through Berlin, Moscow, Astana and Beijing, Boris Dubrovskiy, governor of Russia's Chelyabinsk region, was quoted as saying by Sputnik.
In April, China's first overseas high-speed rail project was launched in Indonesia. It was the first time China allowed a State-owned company to get fully involved in an overseas project in terms of design and construction, according to the National Development and Reform Commission, the country's top economic regulator.
Bao Rongfu, a transportation analyst with Nanjing-based Huatai Securities Co Ltd, said China Railway Group's overseas orders are expected to "sustain rapid growth", as the Belt and Road Initiative advances.
In 2016, the company signed overseas contracts worth a record 102.5 billion yuan ($15.04 billion), up 49.6 percent year-on-year, according to its annual report.
In the first quarter this year, it reported that newly signed overseas contracts reached 15.58 billion yuan, up 131.8 percent from the same period last year. During the same period, its net profits increased 15.32 percent year-on-year to 2.62 billion yuan.
Zhou Huiying in Harbin contributed to the story.