High-speed railway station planned in Xiongan New Area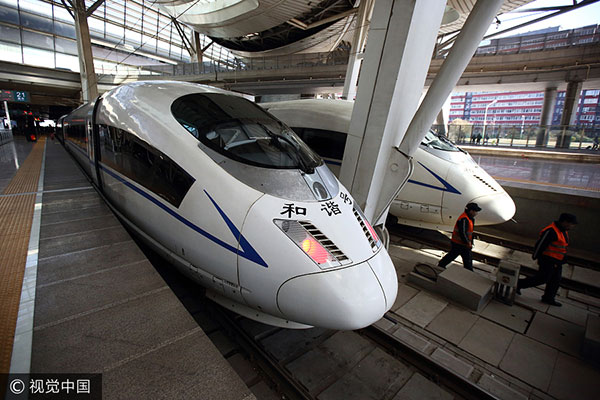 China Railway's high speed trains sit parked at Beijing South Railway Station in Beijing, March 11, 2015. [Photo/VCG]
A high-speed railway station will be constructed in Xiongan New Area, turning the planned megacity into an important transportation hub, The Beijing News reported citing a policy advisor on Thursday.
Xu Kuangdi, director of a council of experts for coordinated development of the Beijing-Tianjin-Hebei region, made the remarks at a forum in Beijing on Tuesday.
Upon its completion, it will only take 41 minutes to travel from the Xiongan New Area to Beijing.
The government announced plans to establish Xiongan New Area in April as part of measures to integrate Beijing-Tianjin-Hebei development and cure "urban ills" such as traffic congestion and air pollution in the capital.
The overall planning program for Xiongan New Area is expected to be completed by the end of this month before submitting it to the central government to review, said Xu.
Xu said the construction of the new area should focus on a more efficient transport network, environmental protection, urban and rural integration and innovative urban planning.
Xiongan New Area plans to build an underground infrastructure network, putting urban transportation, water, electricity, gas, disaster prevention systems underground, Xu added.