Xiongan may emerge as nation's science city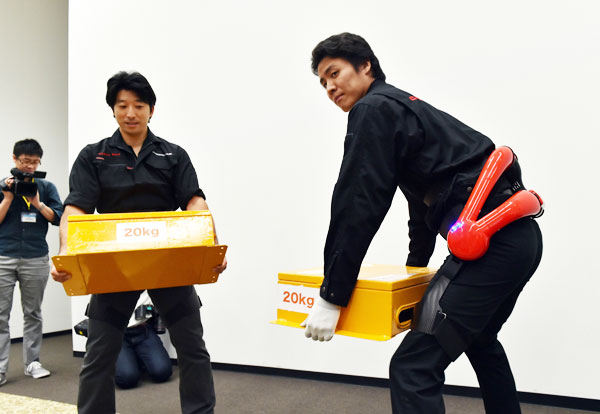 Employees at Japan's robot venture Cyberdyne demonstrate the new robot suit's Hybrid Assistive Limb labor version at the Cyberdyne headquarters in Tsukuba. The HAL, which is designed to learn the users' motion and help their movements, can be used by construction workers to carry heavy objects. [Photo/Agencies]
Xiongan could emerge as the Chinese version of Tsukuba, the Japanese science city near Tokyo that was conceived in 1963 during the post-war reconstruction, experts say.
They said the planned Xiongan New Area could borrow ideas from Tsukuba. The latter has set an example on how to transform overcrowded, unmanageable metropolitan areas into parts of a larger and orderly economic region.
The April 1 announcement of the plan to create the Xiongan New Area laid emphasis on relocating Beijing's "non-capital" functions to Xiongan, about 100 kilometers south of the capital city.
The new area will be built into a green, livable and modern zone, which is expected to serve as a trailblazer in addressing the problems of big cities, a new engine for innovation and growth, and a bridge for infrastructure connecting Beijing, Tianjin and Hebei province.
A similar scheme in Japan last century resulted in Tsukuba, which could be a role model for China's Xiongan New Area, said Zhou Muzhi, professor of economics at Tokyo Keizai University.
Tokyo grew into the world's largest city in 1955, thanks to Japan's rapid economic takeoff after World War II.
The Japanese government came up with the idea of relieving the densely populated capital through systematic relocation of 31 prominent national research and educational facilities to less-congested regions of Japan.
Tsukuba, a rural area 50 km northeast of Tokyo, was selected in 1963 as the site for Japan's first science city to host those institutes.
Japanese Prime Minister's Office set up the Academic New Town Construction Promotion Headquarters in 1964. The Tsukuba Academic New Town Construction Act came into force in 1970, setting the goal of "establishing a science city appropriate for conducting experimental research and education while at the same time developing a well-balanced rural city, and contributing to the ease of the excessive population concentration in the existing Tokyo metropolitan area".
The then planned science city, which now covers 284 square kilometers, was supposed to be home to 350,000 residents.
In the 1970s, people who moved to Tsukuba were said to need three things-high boots for the mud, a flashlight (as there were few streetlights) and a stick to keep stray dogs at bay.
In 1973, the University of Tsukuba was established, the forerunner of which was the Tokyo University of Education that was founded in 1949. And in 1980, all 31 national institutes selected to move from Tokyo were relocated to the new city.
Tsukuba has since grown tremendously, becoming home to 147 research institutes and 227,000 people, according to Zhou.
Today, Tsukuba is Japan's cutting-edge science city. Its research covers a wide range of areas, such as electronics, biotechnology, mechatronics, new materials, information engineering, space development, environmental science, natural resources, energy, earth sciences, civil engineering, construction and agriculture.
There are four Japanese Nobel laureates associated with Tsukuba. Shin-Itiro Tomonaga, professor emeritus of the Tokyo University of Education, received the Nobel Prize in physics in 1965; Leo Esaki, former president of the University of Tsukuba, was awarded the 1973 Nobel physics prize; Hideki Shirakawa, professor emeritus of the University of Tsukuba, was the winner of the chemistry prize in 2000; and Makoto Kobayashi, professor emeritus at the High Energy Accelerator Research Organization in the city, was the recipient of the 2008 physics prize.
"The Japanese government has had a very clear idea of what kind of city Tsukuba should be. That is, it should be an international science city," Zhou said. "Japan has made it (like that)."
A large community of international scholars and researchers also give the city a unique cosmopolitan quality. Tsukuba has achieved worldwide recognition as a major scientific and technology center.
The new city hosted the International Exposition on Science and Technology in 1985. The event's theme was apt: "Dwellings and Surroundings-Science and Technology for Man at Home".
The fair put Tsukuba on the global map. The science-driven city hosted the G7 Science and Technology Ministers' Meeting last year.
The city was also designated as the Tsukuba International Strategic Zone by the Japanese government. Through deregulation and tax incentives, the designation aims to promote "life innovation" for achieving a healthy aging society and "green innovation" for realizing a low-carbon society.
Tsukuba's success story shows that it is important to develop a clear vision for such a new city's role, have clarity on policies and be patient, Zhou said. "It took the Japanese government 20 years to move those institutes to Tsukuba."
He highlighted, however, that Tsukuba does not help relieve Tokyo's population density.
The Tokyo metropolitan area, which includes Chiba, Kanagawa, Saitama and Tokyo prefectures, has seen its population increase from 11.28 million in 1950 to 38 million.
The rise of Tsukuba has not dwarfed Tokyo's towering position as a research center. The Japanese capital has 44.6 percent of the country's research professionals.
The Xiongan New Area, if developed well, would become a bright spot in the Beijing-Tianjin-Hebei region. But Beijing will continue to be the engine driving the growth of the region, Zhou said.
He said Beijing should sharpen its capability to manage its dense population, as people will continue to move in.
A major transportation network and basic infrastructure should be in place in Xiongan by 2020. The area will be well connected to Beijing, Tianjin and Hebei by 2022 when the Winter Olympic Games are held, according to Xinhua.