Caterpillar banking on prosperous future
CHICAGO-Global manufacturing giant Caterpillar Inc is expanding its operations in China.
Bob De Lange, president of construction industries at the group, underlined that point when he expressed confidence in the market here.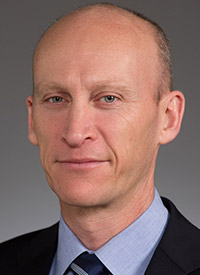 Bob De Lange, president of construction industries at Caterpillar. [Photo provided to China Daily]
"We look forward to a long and prosperous future in China," De Lange said in an exclusive interview with Xinhua.
The world's second biggest economy is one of Caterpillar's "biggest growth markets" outside North America.
"We are making a very strong commitment to China," De Lange said.
The construction and manufacturing group plans to develop local leadership, its industrial base and supply chain as well as its business model here.
"We want to be a good local citizen because we are very committed to being a market leader in our equipment in China," De Lange said.
He was especially optimistic about the economy, explaining that with investment in infrastructure and housing, it is one of the bright spots in the world.
De Lange also praised China's Belt and Road Initiative, which will connect Asia, Africa, the Middle East and Europe to the old Silk Road route.
"We are aligned in our objectives-the Chinese government and Caterpillar-because it is about building connectivity," he said.
"It is about improving infrastructure, improving the standards of living of people around the world and that is exactly what we want to do as well," he added.
Caterpillar is a leading manufacturer of construction and mining equipment, diesel and natural gas engines, industrial gas turbines and diesel-electric locomotives.
Last year, it was ranked 194th on the Global Fortune 500 list.
The group's first business venture in China was back in 1975 when it signed a $3.8 million deal to sell 38 pipe-layers to the China National Petroleum Corp.
Then in the early 1990s, it started manufacturing here. Since then, the company has made a long-term commitment to China.
It now has more than 10,000 employees in the country, while the group's dealers employ another 5,000 workers. So far, the group based in the United States has opened 28 manufacturing plants in China, with three research and development facilities and three logistics centers.
"We're really trying not just to go to China to build equipment, but to develop our full business model," De Lange said.
Earlier this year, he attended the China Development Forum and was positive about the country's long-term future.
"In the short term, it might mean slightly slower growth, but if it means sustainable long-term growth, I think that is positive...we want to make a long-term commitment and have long-term success in China," De Lange said.