Ant woos 3rd-party financial shops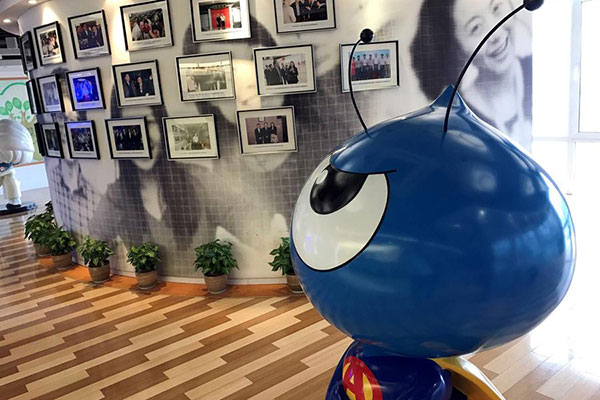 A mascot of Ant Financial is seen at its office in Hangzhou, Zhejiang province, Sept 21, 2016.[Photo/Agencies]
Ant Financial Services Group announced on Wednesday that it will allow third-party financial institutions to set up virtual shops through an indigenous app, another push to vie for supremacy in the country's booming online financial sector.
Banks and mutual funds can now publish content and sell their own financial products in a newly unveiled function, the "Fortune Account", via Ant Fortune, the wealth management app of Ant, according to Fan Zhiming, president of the payment business unit at Ant Financial.
"The overarching goal of the platform is to allow financial services to directly reach end-users, and to form an online community discussing wealth management options," he said.
Shanghai Pudong Development Bank Co Ltd, China Citic Bank Corp Ltd and Bosera Asset Management Co Ltd are among the first 10 institutions to have such services go live. Ant did not disclose whether and how it charges businesses commission fees.
According to Fan, the dashboard for Fortune Account owners would provide data analysis and customer relations management tools using data technologies and artificial intelligence.
Sister app Alipay, which provides a wide variety of payments and other mobile services, also provides access to such business, a strong indication that Ant wants to enhance customer loyalty through its existing 450 million Alipay users, said Li Chao, a senior analyst at iResearch.
"Ant's ambition is to mimic a high-end private banking model, where customers place the majority, if not all, of their assets in one channel because they can fulfill different financial tasks through a unified platform," he said.
While a number of internet finance firms have launched, or expressed an intention to launch similar services, Ant has an advantage thanks to its massive customer base, a comprehensive payment system, and the consequent fame needed to win the trust of both partner institutions and end users, he said.
"In China there is no entrenched culture of buying wealth management products, traditionally targeting high net-worth investors and portfolio managers. Ant's idea of forging a virtual community also rides the next trend of attracting and retaining younger generation customers, who are used to dealing with financial matters online," said Ye Tan, a veteran financial commentator in China.