Ant Financial extends online credit service to retailers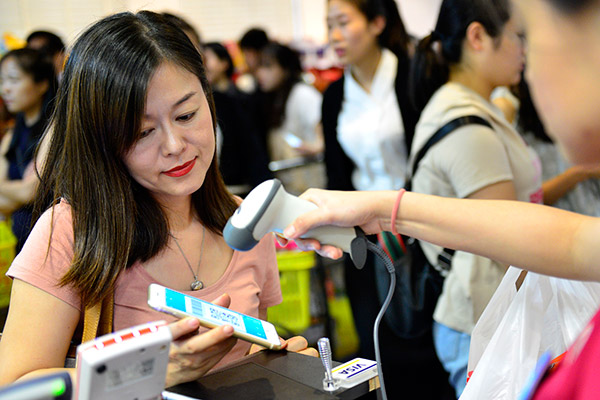 A woman uses Alipay, a business of Ant Financial, via her mobile phone at a store in Singapore. [Photo/Xinhua]
Ant Financial Services Group, the online finance firm backed by billionaire Jack Ma, will extend its online consumer credit service to four million retail businesses across the country to boost sales and encourage spending-as China's consumers increasingly feel more comfortable shopping with borrowed money.
Zou Liang, vice-president of Alipay Business Unit at Ant Financial, said that sales surged by an average 41 percent per client year-on-year from 2015 to 2016 after a number of retailers adopted Huabei, or Ant Check Later, a loan and installment service.
The move is among a wide array of cashless services Ant introduced to its clients, ranging from digital payments and marketing to customer management and financing, Zou told the 2017 Ant Open Day in Shanghai on Wednesday.
Through the company's open platform, the financial technology giant said it would offer businesses more application programming interfaces, benefiting 12 industries from retail to healthcare.
"The open platform will empower our corporate clients with better customer relations management capabilities, streamline procedures and trim costs, all in pursuit of the goal of moving toward a cashless society by 2020," he said.
Some business operators say Alipay, Ant's e-wallet which encapsulating functions from payments to a credit scoring system, is set to revolutionize the traditional customer loyalty programs.
Ma Ke, operating director of pharmacy chain Simcare, said that instead of filling out lengthy registration forms, shoppers immediately become members after making mobile payments and are regularly provided with healthcare newsfeeds based on their individual needs.
He said that in the first quarter of 2017, the pharmacy had seen the number of mobile payment transactions jump threefold year-on-year to over 300,000.
Ma added that the online drugstore distributed customized discount coupons based on customer's purchase records.
Wu Dao, operating director of Senipay, an independent software supplier to the hotel industry that works with Ant, said that the credit service improved efficiency.
Wu said that using Sesame Credit, a credit-scoring system developed by Ant, customers were able to access benefits from waivers on room deposits to quick checkouts.
According to Alipay's Zou, social credit systems can offer customers loyalty benefits such as better borrowing privileges at a local library. But rewards can also have greater financial significance, such as streamlined processing of loan applications.
Ant said in a report last month that one in four consumers aged between 18 and 27 use pay-by-credit services Ant Check Later, translating into 45 million young adults using the "money of tomorrow" for discretionary purchases. The report also found that customers born in the 1990s constituted 47.3 percent of the platform's 100 million registered users.