PhiSkin looks good after new funding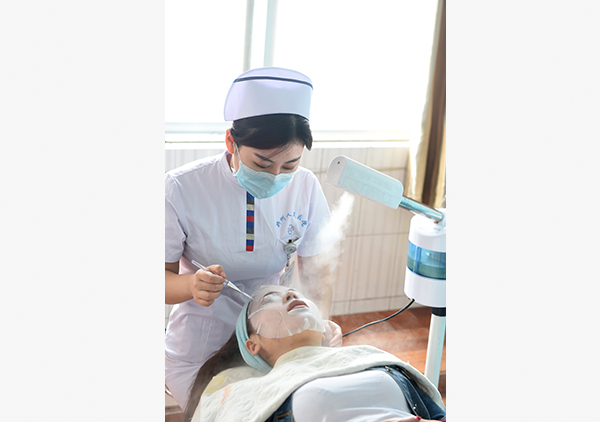 A woman has a facial care at a hospital in Zhengzhou, Henan province. [Photo/China Daily]
Private equity firm H&Q Asia Pacific said PhiSkin-a cosmetic medical services provider which operates a skin and laser clinic in its investment portfolio-completed series B fundraising in early June, one more deal in the sector which is attracting increasing amounts of capital in China.
Legend Capital led the 120 million yuan ($17 million) series B round in PhiSkin, the Shanghai-based aesthetic medical and beauty services provider that focuses on skin treatment.
H&Q led PhiSkin's series A round fundraising, and invested some 54 million yuan of the total 64 million yuan raised in 2015.
The private equity firm said that the internal rate of return target for its PhiSkin investment was at least 30 percent and 40 percent, and the exit plan included an initial pubic offering in the A-share market.
"A lot of capital from Chinese investors poured into private equity investment. Healthcare is one of the hottest sectors together with TMT," said Mark Hsu, managing director of H&Q.
"Out of the many different niche sectors in the healthcare industry, medical aesthetic clinics are the easiest to understand and operate," Hsu added.
He said that demand for aesthetic medical services would continue to expand as the middle class population grows steadily, and mid-to-high income people required more anti-aging services.
"If we just consider high-quality medical aesthetic services which are operated by real high quality doctors, the supply is not enough," he said.
"That's why we believe that to build up a well-known retail brand with real medical professional operation in this sector can have a long-term success."
China's aesthetic medical services sector has been appealing to a wide range of investors. That has included Nanjing-based Suning group, which set 5 billion yuan fund to invest into aesthetic medical services, and Beijing-based female fashion retailer Lancy, which acquired stakes in six beauty clinics and now seeks to raise more fund to invest in a cosmetic services hospital.
Shanghai-based conglomerate Fosun also invested in acquiring stakes in aesthetic medical equipment and material suppliers, aesthetic medical information providers, and aesthetic medical clinics-in a bid to profit from the fast-growing market throughout the entire value chain.
According to data from the country's representative body for comestic medical services and plastic surgery, the Chinese Association of Platics and Aesthetics, the country now has more than 10,000 aesthetic medical services clinics, and some 3 million quasi-aesthetics stores without medical service qualifications providing services such as acne treatment and anti-aging treatment.
Analysts estimate that in 2014, some 1 percent of the population used aesthetic medical services, and the number is seen reaching about 17 percent by 2019.
"The aesthetic medical services market is quite fragmented in China, but its size is expanding fast. By 2020 the market will reach a size of one-trillion yuan, so significant market consolidation is expected," said a research note by China Merchant Securities.