Youthful shoppers turning to TCM-based skin care products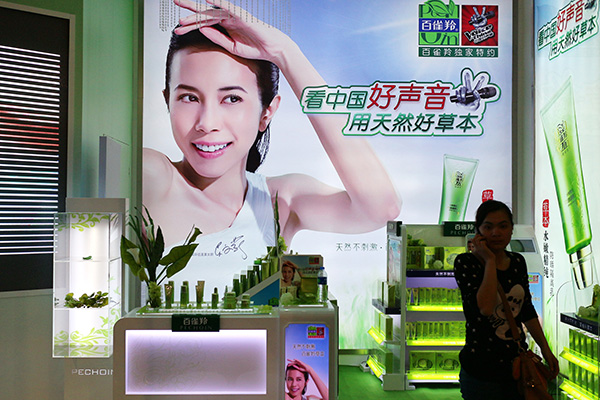 Chinese skincare brand Pechoin's counter at a shopping mall in Nanning, the Guangxi Zhuang autonomous region. [Photo provided to China Daily]
Skin-care products have always thrived on the cutting edge of fashion, and the biggest international names in cosmetics are celebrated in elegant ads worthy of a Paris runway.
But instead of seeking the latest thing, many shoppers for beauty products in China are now looking to their cultural past for traditional Chinese medicine and its natural ability to enhance skin.
Zhang Xuan has been using different cosmetic products for a long time, but nothing seemed to soothe her dry skin during winter until she switched to Herborist, a TCM-based cosmetic brand.
Now, she's an enthusiastic fan.
"I think it is healthier and suits my skin better," said the 20-something Shanghai teacher. "I'd like to try other TCM-inspired skin care in the future."
Such products may still be a minority in retail cosmetic counters, but they have been gaining momentum in the last few years as brands and consumers alike discover their appeal and potential. Long favored by the older generation, TCM-based cosmetics are now growing popular among young people like Zhang.
Yue Sai, the cosmetic brand owned by French cosmetics giant L'Oreal, has long used TCM in its products. While most of its customers are in their 30s and 40s, the brand is also attracting fans in their 20s, especially online.
More than half of its customers in the online store are in their 20s, said Stephane Wilmet, Yue Sai's brand manager.
The brand combines TCM ingredients like lingzhi mushroom and ginseng with modern technology to develop products tailored for Asians' delicate skin.
Many TCM external remedies aim to promote blood circulation and lubricate parts of the body where applied. They can be prepared as creams, jellies, lotions and masks as well as powders. Common ingredients include aloe, almond, pearl, notoginseng, motherwort, common bletilla tuber (bai ji), dahurian angelica root (bai zhi) and ginseng.
"It's not just about cultural heritage. The mild nature of the TCM ingredients also better suits Chinese skin," Wilmet said.
Yue Sai is followed by more nascent brands that look to capitalize on the power of TCM.
Yuan Soap, a Taiwan-based brand that uses herbs and spring water to make skin care products, has attracted a large following of people in their 20s with its organic approach.
These new brands are also very good at marketing themselves in new, flexible ways, including promotions on WeChat and Taobao.