Content 'with great potential' takes millennials by storm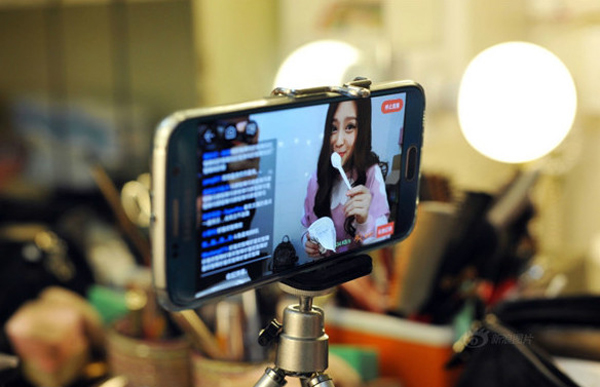 An online anchor uses her mobile phone to do live streaming. [Photo/Xinhua]
Cai Heng, 27, co-founder of Star Station TV, is a firm believer that short videos will emerge as a key part of people's daily life soon, especially among Chinese millennials.
"In this age of ever-expanding information, people's attention spans are becoming shorter. And short videos of less than five minutes that can fully capture the viewer's attention will be the way people will be entertained in the future," he said.
Short videos may well become the main form of entertainment for young users, he said.
He must know. Driven by that idea, Cai and his partners set up Star Station TV in 2015. The Shanghai-based online video content producer targets young users' increasing need for entertainment. It offers a wide range of online programs on over 20 topics, including movies, sports, finance, fashion, foods and fitness.
The company has already landed two rounds of financing from investors, totaling more than 10 million yuan ($1.45 million). Cai claims short videos on Star Station TV have already garnered around 1.2 billion views.
Cai wants to make shorts videos on more topics, aiming to tap into a bigger market in future. "For us, the huge group of young Chinese users will likely create a market with great potential."
Although the company would not share details, it said revenue comes from advertising. Another source of revenue is production fee paid by business clients asking for online programs or viral videos.
Star Station is one of many popular online video producers in China catering to a rapidly growing young audience, thanks to the booming mobile internet and popularity of affordable smartphones. The short videos, which last for less than five minutes, have gained many viewers.
A recent report by market research firm iiMedia Research said in terms of viewers, the Chinese short video market increased almost 74 percent year-on-year to 153 million in 2016; and the market is expected to grow 58.2 percent in 2017 to a record 242 million.
According to the report, the growth in the next three years will come on the back of emerging short video apps such as Kuaishou and Meipai, and the booming live streaming sector, especially because short videos are tailored to millennials.
Ma Shicong, an analyst at the Beijing-based internet consultancy Analysys, said the Chinese short video market is warming up, and is expected to expand the industry chain to more market segments in the next few years.
"In the past, the focus was on short video platforms. Now, more entrepreneurs have sights on the online content production.
"It's hard for short video producers to generate revenues directly from viewer subscriptions. Instead, I would suggest they should seek to get paid by business clients who ask for brand marketing," said Ma.