Video surveillance supplier launches new products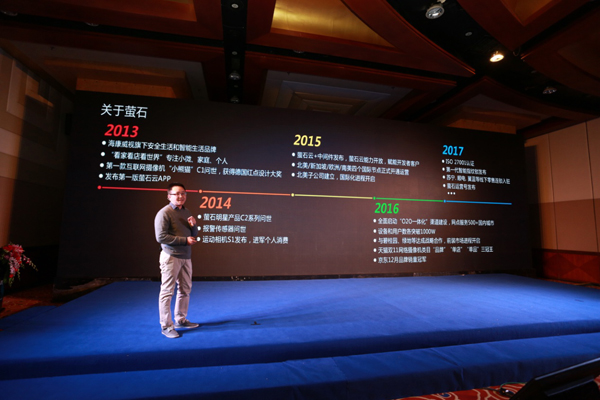 Guo Hangbiao, Ezviz's deputy general manager, speaks at the launch ceremony in Beijing on March 28, 2017. [Photo provided to chinadaily.com.cn]
Ezviz, an online service platform that provides video surveillance products and solutions to families and small and micro-businesses in China, unveiled a series of new intelligent security products in Beijing on Tuesday.
Affiliated to Hikvision Digital Technology Co Ltd, one of the world's leading suppliers of video surveillance products, "Ezviz will continue to offer video surveillance and home security solutions, as well as intelligent digital image and innovative cloud services in 2017," said Guo Hangbiao, the company's deputy general manager.
The Wire-Free Camera Kit includes a C34 camera and a W2S wireless gateway.
Powered by four batteries, the rain-proof and dust-proof C34 camera can be installed anywhere with the magnetic base. It will automatically switch into the ultra-low power consumption mode when hibernating. When strangers come in, it will start within one second and send a message to the owner.
The W2S wireless gateway is also designed with low power consumption and can support multiple C34 cameras and alarm devices at the same time.
The C6P is Ezviz's first generation of panoramic camera product, supporting 360-degree image when it is suspended on the ceiling. Through Ezviz's video app, users can also watch VR video from it.
Ezviz also released a solution to enhance door security. The solution includes a peephole and a fingerprint lock.
The peephole, with a 4.5-inch high-definition touch screen, has face recognition, visual intercom and doorbell functions. Using a B-level cylinder, Ezviz's lock supports fingerprint, password, key, and card functions.
The peephole and the lock are interoperable. When someone wanders outside the door, the peephole will automatically capture the video and instantly inform the owner via the cloud service.