Lotte to sell loss-making stores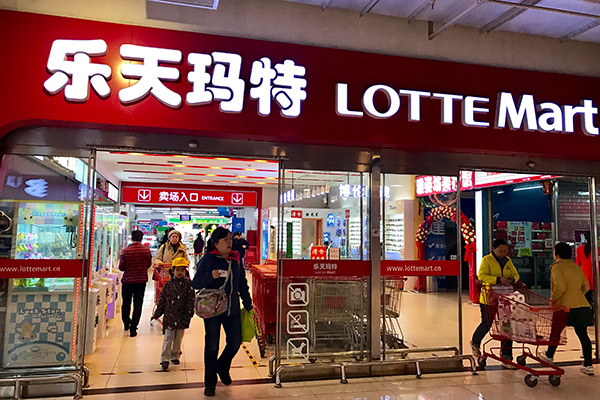 A Lotte Mart in Beijing, Feb 28, 2017. [Photo/China Daily]
Lotte Mart, the retail arm of South Korea's Lotte Group, is expected to sell some of its loss-making stores in China, a South Korean newspaper reported.
But it is finding it hard to sell the stores at a decent price or even find a proper buyer at a time when the hypermarket format is no longer attractive to local consumers.
The South Korean retailer is in negotiations with potential Chinese buyers to sell 20-30 of its loss-making stores. At present, 90 percent of its 74 hypermarkets are no longer in operation, according to Aju Business Daily.
Jason Yu, general manager of Kantar Worldpanel China, said Lotte is seeking buyers for its struggling stores but will keep its profit-making outlets.
"Lotte doesn't have many advantages. Its best option is to sell its business to local retailers in China, which are likely to be interested in Lotte's regional presence if they want to boost their dominance in specific regions."
"It is hard for Lotte to sell at a good price given that the hypermarket business model is struggling for survival and consumers favor smaller formats such as convenience stores and online shopping," said Yu.
"Lotte's main problem is it failed to keep pace with the profound changes in China's retail environment," said Yu.
According to the Korea Herald, South Korean retail group Shinsegae Group has decided to close its chain of discount supermarkets in China. Shinsegae Vice-Chairman Chung Yong-jin told reporters that the company's E-mart chain will be leaving the Chinese market after 20 years.
According to a Shinsegae spokesman, the E-mart stores will be closed at the earliest possible date, depending on local contract conditions for each store.
Despite aggressive investment, the chain failed to gain traction and underwent massive restructuring. At the end of 2010, the chain had 26 stores, but it now operates just six.
"Failure to adapt to the changing demands of Chinese consumers and retaining the same business model for years were held as the major reasons for the exit of E-mart in China," said Yu.
In the first quarter of this year, hypermarkets, supermarkets and convenience stores grew only 0.3 percent, according to Kantar's report.
Some traditional retailers have met the challenge of change in the nation's consumer market by improving their offerings in fields such as fresh and imported food, and tie-ups with e-commerce.
For example, Wal-mart Stores Inc moved onto the platform of JD.com Inc on May 25, to make the best use of JD's massive logistics system and Wal-mart's global merchandise supply.