China among fastest growing market for NYC tourism: official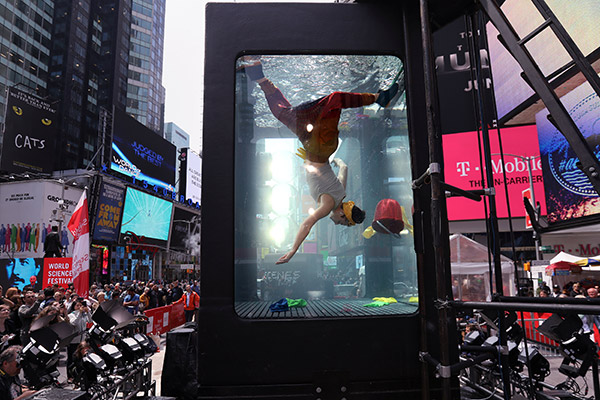 A performer takes part in an event titled "Science in the Square" which is used to highlight science and in particular, climate change in Times Square in the Manhattan borough of New York City, May 31, 2017. [Photo/Agencies]
NEW YORK - China is one of the fastest growing international market for New York City as nearly one million Chinese visited the Big Apple in 2016, said Fred Dixon, president and CEO of NYC & Company, the city's tourism marketer.
"It (China) is still one of the brightest spot on the horizon in terms of potential growth," said Dixon in response to a question by Xinhua at a press conference held Wednesday morning at the newly launched Whitby Hotel in Manhattan midtown.
He said businesses across the city, including hotels, cultural institutions and restaurants, are turning to Chinese travellers, many of them have started offering Chinese language tours, and hot tea, slippers and other amenities.
In order to attract more Chinese visitors, NYC has also expanded its footprint in China by enhancing cooperation with its local partners and more presence on the country's social media, he said.
According to NYC & Company's statistics, over 950,000 Chinese visited NYC in 2016, surpassing Brazilians and Canadians in the ranks of tourists to the city. That represents a sevenfold increase since 2007. Only visitors from Britain outnumbered the Chinese in 2016, but their total of about 1.2 million has not grown since 2007.