First locally built cruise liner due for delivery in 2023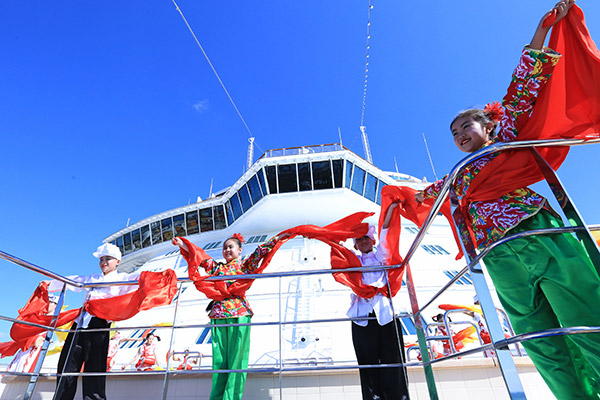 Performers stage a folk dance from China's Shaanxi province on board the Majestic Princess in Rome, May 22, 2017. [Photo/Xinhua]
China's first domestically manufactured cruise liner will be delivered in 2023, followed by a delivery rate of one vessel per year between 2024 and 2028, said a senior executive from one of the companies involved in the China-built cruise project.
The first China-made cruise liner will be 323.6 meters long and 37.2 meters wide, and it will be delivered in six years, according to the Shanghai Observer, citing Wu Qiang, general manager of China State Shipbuilding Corp.
In order to cash in on the nation's booming cruise market, a 2.6 billion pound ($3.33 billion) agreement was signed in October 2015 between CSSC, China Investment Corp and Carnival Corporation & Plc. The three parties agreed to set up a joint-venture cruise operation based in Hong Kong, which would place orders.
In February, Carnival announced that its cruise joint venture had signed a memorandum of agreement to order the first-ever cruise ships built in China for the Chinese market.
As part of the agreement, the joint venture will order two new liners to be built by a China-based shipbuilding joint venture by China's largest shipbuilder CSSC, Carnival and Italy-based Fincantieri SpA. The agreement also gives the joint venture the option to order four additional China-built ships.
The future cruise liner will have nearly 2,000 cabins and a maximum capacity of nearly 5,000 passengers.
Shanghai Waigaoqiao Shipbuilding Co Ltd, a company controlled by CSSC, will commence construction of the $1 billion cruise ship, Chen Gang, vice-president of Waigaoqiao Shipbuilding, told China Daily in an earlier interview.
China's cruise economy, which started in 2006, saw a 45 percent compound annualized growth rate in the past decade. Wu Zhenglian, a cruise design expert with a research institute at CSSC, estimated that 4.5 million Chinese people will go on cruises by 2020, which would need 40 cruise ships to homeport in China.
"The China cruise market is growing rapidly. Last year, more than 3.6 million trips were made, a 33 percent rise year-on-year, and that figure is expected to reach at least 10 million trips by 2030," said Zhang Xuewu, chairman of China Tourism Group Co Ltd.