Bright takes over Fisheries in reform of Shanghai SOEs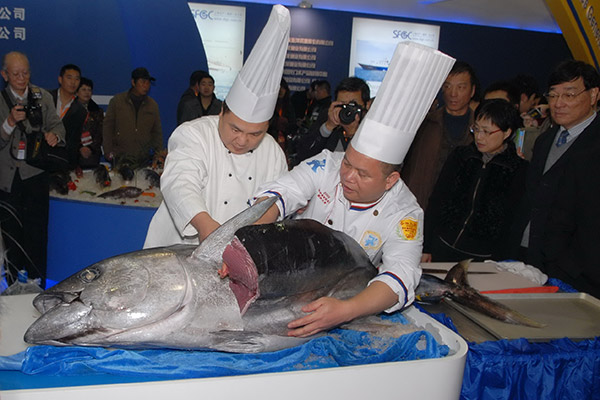 Two employees from Shanghai Fisheries Group Co Ltd serve tuna at an industry expo held in Shanghai. [Photo/China Daily]
The Shanghai municipal government announced a fresh round of reform and restructuring of local State-owned enterprises on Thursday.
As part of the reform, Bright Food (Group) Co Ltd will absorb Shanghai Fisheries Group Co Ltd. Shanghai Fisheries will thus become a wholly owned subsidiary of Bright Food.
It will retain its distinct identity though and continue to focus on deep sea fishing as well as intensive processing of, and trading in, aquatic products.
Shanghai Fisheries has more than 30 subsidiaries. Its total assets amount to 5 billion yuan ($725 million) and annual sales revenue comes to about 7 billion yuan.
Prior to this deal, Bright Food had already started foraying into aquatic products. It has been working on the cultivation of freshwater crab and South American white shrimp via its wholly owned subsidiary Shanghai Bright Special Aquaculture Co Ltd, which was established in 2013.
Bright Food's spokesman Pan Jianjun said the reorganization will help Bright Food to complete its food product industry chain. It will now have a presence in products related to freshwater, deep sea, inshore and distant seas.
"Bright Food can make best use of its advantage in cold chain, warehousing, processing and logistics to better secure food supplies to Shanghai," he said.
According to Fitch Ratings, Bright Food accounts for 41 percent of Shanghai's trade in vegetable and edible agriculture produce. The group also manages more than 80 percent of Shanghai's policy grain reserves and all of its edible oil reserves.
In its most recent rating for Bright Food, Fitch affirmed a "stable" outlook. The ratings agency considers Bright Food indispensable for maintaining Shanghai's food quality. With more food safety regulations in place now, Bright Food will cement its leading role in the industry.
Bright Food Group comprises four listed companies, including the well-known Bright Dairy and Food Co Ltd. While securitization of State-owned assets has become a buzz phrase in SOE reform, Pan said the group has no plan to merge all its entities for a single listing. Increasing the rate of securitized core assets is the group's goal at present, he said.
Shanghai was the first municipality to announce its local SOE reform plan in 2013. According to the State-owned Assets Supervision and Administration Commission of the Shanghai Municipal Government, the result of reforms was better than expected in 2016.
The local SOEs earned 3.1 trillion yuan last year, with net profit reaching 305.8 billion yuan. They paid 300 billion yuan in taxes, up 15 percent from 2015.
The real economy enterprises saw their operational income and profit rise 8.7 percent and 12.2 percent year-on-year respectively.