China Tower plans to go public in HK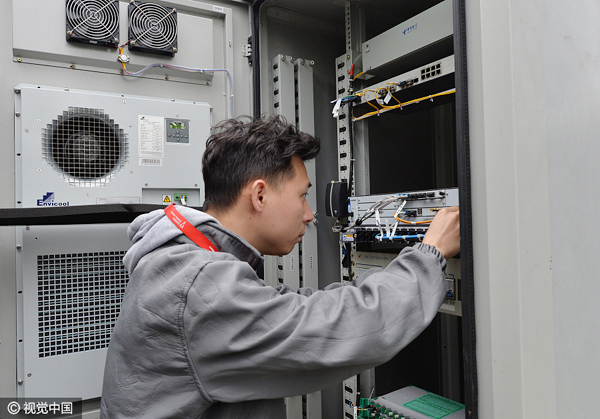 An employee of subsidiary of China Tower Corp in Chengdu checks equipment in Chengdu, Southwest China's Sichuan province, April 20, 2017. [Photo/VCG]
China Tower Corp, a joint venture handling the telecom tower assets of the mainland's top three mobile carriers, is expected to generate a profit this year, and it aims to go public in Hong Kong this year or in the first half of next year.
Wang Xiaochu, chairman of China United Network Communications Ltd, which owns 28.1 percent of China Tower, revealed the news on Tuesday.
"As a shareholder, we are expected to see good profits from China Tower this year," Wang said at an investor conference in Shenzhen, Guangdong province.
China Tower confirmed to China Daily on Tuesday that it plans to list in Hong Kong in the fourth quarter of 2017 or in the first half of next year. But it is still not clear whether the company will also be listed on the Chinese mainland stock market.
The Beijing-based company is a key pilot project for China to restructure State-owned enterprises and to give the market a greater role in allocating resources.
In 2016, China Tower recorded 575 million yuan ($83.26 million) in losses, but its revenue grew 428 percent year-on-year to 54.4 billion yuan.
China Unicom is also pushing forward mixed ownership reform to find new growth engines.
"We are talking with 10 ministries to accelerate the reform process," Wang said, adding that the State-owned company is likely to give core employees shares and hopes the reform can help it operate independently in a real sense.
China Unicom is the country's second-largest mobile carrier by subscribers. It is locked in stiff competition with China Mobile Communications Corp and China Telecom Corp.
The company is working extensively with internet giants Alibaba Group Holding Ltd, Tencent Holdings Ltd and Baidu Inc in telecom services, information infrastructure and other emerging businesses.
"By teaming up with Tencent to promote data traffic packages, we have added 20 million subscribers within six months," Wang said. "Internet partners can complement our shortcomings in retailing channels."