TAILG plugs right into Belt and Road opportunities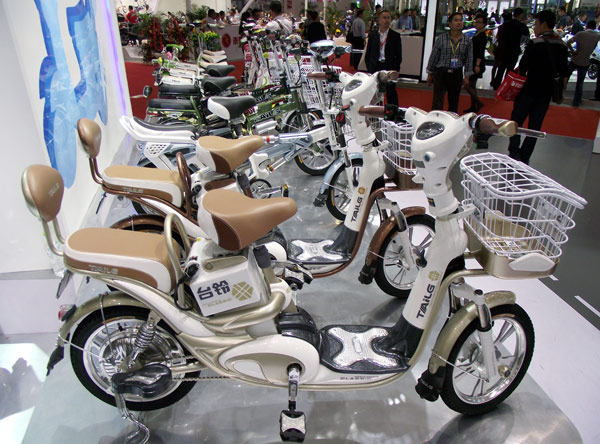 TAILG electric bikes on display at an exhibition in Nanjing, Jiangsu province. [Photo/Asianewsphoto]
As many as 210 million yuan ($30.5 million) worth of orders have been signed between Shenzhen-based electric vehicle company TAILG Electric Vehicle Co Ltd and distributors from Vietnam, Philippines, South Korea, the Netherlands and the United States, and the electric bike and scooter maker looks to benefit more from the Belt and Road Initiative.
"According to the orders signed, TAILG's electric bikes and scooters will be sold to more than 30 nations and regions in the coming year through these distributors," said Sun Muchu, vice-president and R&D director of TAILG.
According to Sun, overseas markets only contribute about 5 percent to TAILG's total sales, but the company is striving to raise this to 20 percent by 2019.
"The nation's electric vehicle market has entered into a stabilized phase since 2013, but we have found growing opportunities from the overseas market. Raising the proportion of overseas sales to 20 percent is one of our three goals in the coming years until 2019," Sun added.
Sun made the comments at the four-day 27th China International Bicycle and Motor Fair in Shanghai which will close on Tuesday. The fair is the largest of its kind in Asia, attracting more than 1,300 exhibitors and 160,000 visits this year.
Many Chinese people prefer electric bikes because of their convenience and low costs. In 2016, sales of electric bikes in the country totaled 31 million, according to Ma Zhongchao, a member of the council of the China Electric Vehicle Association.
Sun also revealed that TAILG aimed to open plants overseas, with Vietnam and the Philippines as potential candidates for TAILG's future overseas plants.
Regarding the nation's growing popularity of shared bike market, TAILG has also planned to launch its own model in June, which is a time-shared rental electric bike and scooter.
Because electric vehicles have to be recharged, and have stricter requirements for maintenance, the time-shared rental service will only be available in selected areas including universities, scenic spots, large communities, large corporations, and industrial parks, added Sun.