Goldwind buys $82m windfarm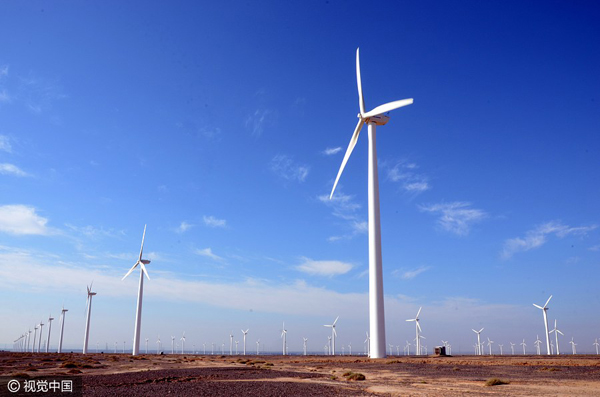 A windfarm in Jiuquan, Gansu province. [Photo/VCG]
Deal is in line with trend to diversify earnings by investing abroad
Chinese wind turbine generator maker Xinjiang Goldwind Science & Technology Co Ltd announced its plan on Monday to purchase a wind farm project in Australia for A$110 million ($81.5 million), vying for a greater presence in the international market.
The project's 149 wind turbines will be Australia's largest single wind farm.
Goldwind said it will buy Stockyard Hill Wind Farm Pty Ltd from a unit of Origin Energy Ltd, and will invest up to A$335 million for further development to strengthen its competitive advantage in the country.
It had already obtained investment approval from Australia's Foreign Investment Review Board, said the Chinese company.
Analysts said the purchase is in line with the recent trend of Chinese companies in the electric power sector, seeking to diversify their earnings by investing abroad, and Australia's energy sector will continue to attract China utilities.
"This trend is unlikely to abate in the next few quarters given the high level of interest in the part of Chinese companies," said Joseph Jacobelli, a senior analyst with Asia utilities and infrastructure research at Bloomberg Intelligence.
"Chinese electric power utilities still find Australia an attractive investment target and will continue to seek assets there in the next few years."
According to Jacobelli, Australian energy markets remain open, the country has low sovereign risk and Chinese companies are also increasingly familiar with it.
"Australia attracted at least nine Chinese utility deals in the past 10 years, mostly State-owned grid operators and generators, with five of them worth more a total of more than $4 billion."
According to a report on China's power utilities M&A trend released by Bloomberg Intelligence by Jacobelli and Charles Shum, domestic and overseas M&A by Chinese electric power utilities could accelerate in the next few quarters thanks to financial strength, poor markets at home and policy support, and net debt to equity is the lowest in at least five years for many developers, increasing their acquisition firepower.
On the other hand, government policy also strongly supports Chinese power companies' expansion abroad, it said.
According to Goldwind, the deal does not require approval or filing by the National Development and Reform Commission, the Ministry of Commerce, the State Administration of Foreign Exchange or other related institutions in China.
"The Stockyard Hill project may be particularly interesting because not only is Goldwind investing in a jurisdiction with a high level of transparency, which reduces investment risks, but it also managed to secure a 22-year long term power purchasing agreement, from 2019 to 2030, at A$60 per megawatt-hour with the seller of the wind farm, further lowering Goldwind's investment risks," Jacobelli added.
Zhuang Qiange contributed to the story.