Amadeus sees boost in railway sector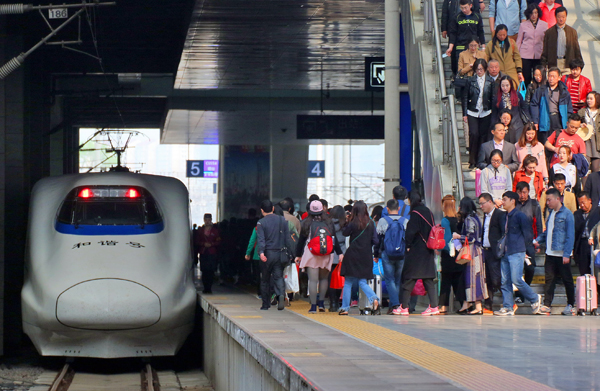 Passengers board a high-speed train in Yantai, Shandong province, on April 16. TANG KE / FOR CHINA DAILY
International travel technology service provider Amadeus said it believes that rail travel will play an even greater role in supplementing and complementing the wider travel industry in China-as well as other parts of the globe.
Madrid-headquartered Amadeus believes that China's ever-growing middle class desires more personalized travel and there is tremendous untapped market potential for rail travel in China and the whole of the Asia Pacific region which can't be ignored.
"As more Chinese nationals adopt rail as an easy way to travel, a huge market potential is out there," said Pierre-Yves Guillaume, Asia Pacific's head of rail and ground travel at Amadeus, in an interview with China Daily.
"We have a strong commitment to the Chinese market," he added.
China's outbound tourism boom is expected to remain the biggest force in the global travel market over the next decade, with Chinese tourist spending anticipated to reach $225.4 billion in 2025 from $137 billion in 2015, according to global economic think-tank Oxford Economics.
Last year, the travel and tourism industry contributed 10 percent or $7.2 trillion to the global gross domestic product, World Travel &Tourism Council's data showed.
The China Railway Group estimates railway passenger numbers in China will increase by more than 9 percent to reach to 3 billion this year-while the world's airlines carried a total of 3.7 billion passengers in 2016-fueled in part by the rapid expansion of the rail network.
It is expected that all the railway networks in China will span across more than 126,000 kilometers in the current year.
In 2016, 2.77 billion railway trips were taken in China, with more than half on high-speed trains. The record for a single day was 14.53 million rail travel trips taken during October's Golden Week holiday last year, according to Amadeus's report on rail travel in the Asia Pacific region.
Another positive factor is that a pan-Asia network of railways is taking shape that can connect China with other Asian neighbors.
The report said that since 18 countries signed the Trans-Asian Railway Network agreement in 2006, progress has been made gradually. Railways in Kunming will now extend east to Laos, Cambodia and Vietnam, and eventually head west through Myanmar to India.
The construction of the new 414 kilometers China-Laos railway already commenced construction last year.
In February, it was reported that Malaysia and Thailand would restart talks on a proposed 1,500 kilometers high-speed rail link between their capital cities. By 2026, a high-speed rail link between Kuala Lumpur and Singapore is scheduled for completion.
"We are working with various partners in China, such as hotel operators, car rental companies, railway operators, coach travel companies and e-commerce partners, to aggregate our information technology solutions to provide services to all these travel industry stakeholders," Guillaume told China Daily.
Amadeus currently has a 43.2 percent market share of the global travel technology services market. Currently many airlines, travel agencies and railway operators in China are Amadeus clients.
"With the proliferation of mobile technology-and more demanding travelers who want personalized services, end-to-end seamless travel experiences, self-managed booking and best-returns for their travel expenses-these phenomena are forcing service providers like us to adopt quality," Guillaume said.
He said the adoption of open and standardized data would be crucial to provide aggregate travel solutions to customers in the future.