Ready for Belt & Road's next phase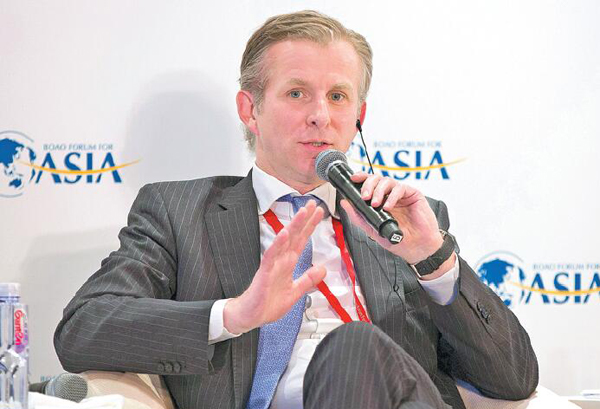 Jan Rinnert, chairman of Heraeus, a family-owned German company engaged in precious and special metals, sensors, specialty light sources, quartz glass and medical technology PROVIDED TO CHINA DAILY
Led by Jan Rinnert, Germany's Heraeus expects China's initiative to spawn digital infrastructure
Overseeing a business as tough as precious metal recycling, thick film pastes and water decontamination, Jan Rinnert, chairman of German technology company Heraeus, has long recognized the importance of adding a human touch to his management philosophy.
It may have been derived from his earlier experience as a local government spokesperson, where he grasped the art of articulating a view, or, later, as a management consultant role in which he learned a slew of business best practices.
"I've always believed in the power in people. My father once told me never to look for a job, but to search for the right individual that you report to and learn from," he said.
Since taking the helm of the one of the most renowned family-run companies in Germany, Rinnert strives to become the "approachable" leader and role model for his 12,500 employees around the globe.
His frankness in leadership is exemplified by a number of initiatives to engage with staff, such as the "open space dialogue" where employees get to raise thorny questions from the outlook of the European Union to personal distractions.
"I was once asked by a Chinese colleague if our businesses would be dragged down by the gloomy outlook of the European Union following Brexit. That's when you realize they are absolutely the most valuable assets of the company," he said.
Founded in 1851 in Hanau, a city near Frankfurt, Heraeus may not be a household name, but it has a sizable presence globally by virtue of its business, which is providing materials and solutions to markets like environment, energy, health and transport. It also provides industrial applications from power electronics systems to electric vehicles, and engages in trading in precious metals such as platinum and gold.
Like many of its German peers, Heraeus is a "Hidden Champion"-a term coined by management consultant Hermann Simon to describe smaller companies that are among the top three of a niche market-with the only problem being it has grown a bit too big to be invisible now.
Sales in 2016 topped $20 billion with a satisfying level of margin, according to Rinnert, whose company does not disclose financial details and chooses to stay private.
"As a family(-run) company, we've never considered an initial public offering. Diversification remains a route to long-term growth. Under one roof, we aim to run eight hidden champions that are all independent, all leaders in their respective niche markets, while leveraging the company's synergies to grow along," he said.
That vision, in part, was made possible thanks to an overhaul plan led by Rinnert in 2014 to turn Heraeus into a portfolio company, by making business units more market-oriented and eliminating several levels of hierarchy.
Today, its portfolio ranges from components to coordinated material systems used in a wide variety of industries, including steel, electronics, chemical, automotive and telecommunications.
But this does not indicate an inward-looking business strategy. Its latest acquisition of Swiss precious metal processor Argor-Heraeus in April would help kick up a notch in processing capacity for gold and silver.
The buyout accords with an earlier investment in China, where Heraeus broke ground for a plant in Nanjing last year to boost capacity in recycling precious metals and manufacturing chemicals, to grow its local market share to 20 percent by 2020.
As the largest precious metals company in the world and one of the very few companies licensed to trade in precious metals in China, Heraeus has been present in the country for 40 years and generates 30 percent of its entire revenue from here.
In the eyes of Rinnert, the 13th Five-Year Plan (2016-20) has laid a solid ground for Chinese companies to embark on technological breakthroughs and shed over-capacities through the supply-side structural reform, guidelines that are in line with what his company could offer.
"Retaining existing technology is not an option-that's the key learning from my family business. That's not easy because you are challenging the status quo. But automation, advanced manufacturing, and other things Chinese are doing is the way ahead to make businesses sustain," he said.
The Belt and Road Initiative will lend new momentum to growth, he said. "It's a visionary initiative. Today, it's more focused on physical infrastructure investment, with substantial financial systems in place such as the Asian Infrastructure Investment Bank as the cornerstone. In the future, we look forward to the digital and data infrastructure building where there is a larger role for us to play."
Rinnert further said the initiative would require extra efforts and coordination for public-private partnerships. It is a subject where Europe has experience and can share that with China.
But it is still the forthcoming cultural and people-to-people exchanges that matter the most, he said.
"I often recall my first startup company that hosted a number of DJs prior to college. That experience helped me deal with pressure, and know my strengths and limits. Today, I see the younger generation in China who are well-educated, digital-savvy and understand the complexity of the environment. I've a lot to expect from you."