More Chinese cities restrict property sales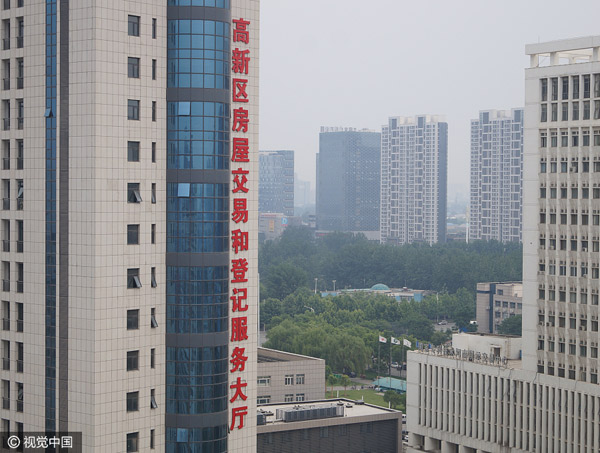 View of a property transaction and registration service center (left) and high buildings in Zhengzhou, Henan province, May 19, 2016. [Photo/VCG]
BEIJING - In its latest efforts to cool runaway housing prices, Zhengzhou, capital of Central China's Henan province, put restrictions on property sales in more counties, effective Thursday.
Local authorities have stipulated that houses in eight counties purchased after May 3 cannot be sold within three years after purchase.
More than 20 cities - mainly second- and third-tier cities in China - have introduced restrictive policies to intensify property market regulations since April.
The new regulation in Zhengzhou will slash speculative demand in the local property market and boost stable development, said Yan Yuejin, senior researcher with E-house China R&D Institute.
Zhang Dawei, a senior analyst with Centaline Property, said that speculative capital is flowing to hot areas without sales restrictions due to tightened regulations, especially in large cities, which will lead more cities to step up regulatory measures.
"Ten more third- and fourth-tier cities around Xiongan New Area have rolled out house purchase restrictions," said Yang Kewei, researcher with property research center CRIC, adding that cities like Zhuhai, Dongguan and Jiaxing, which surround first-tier cities, have scaled up their purchase bans recently.
Restrictions on property sales have become a trump card for many cities. So far, over 20 cities have rolled out similar restrictions.
"Sales restrictions are local governments' new method to regulate property markets, featuring the latest round of tightened regulation beginning in March," said Zhang.
Yang also pointed out that sales restrictions are going to be part of the long-term mechanism of property market regulation, combined with purchase bans and credit limits.