Online retail growth reflects changing consumption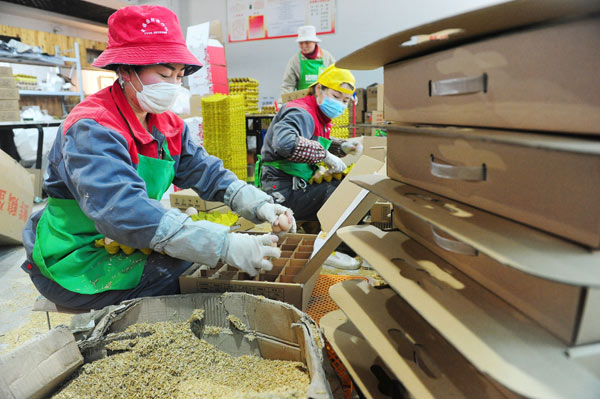 Workers pack fresh eggs for online sales in Fuyang, Anhui province. [Photo by Wang Biao/For China Daily]
China's online retail sales posted robust growth in the first quarter of the year, reflecting a changing consumption pattern, official data showed.
Online retail volumes reached over 1.4 trillion yuan ($203 billion) in the first three months, up 32.1 percent year-on-year and more than double the pace of total retail sales, the Ministry of Commerce said on Wednesday.
Online consumption of services such as tourism, dining and entertainment continued to rise, with sales of travel and take-away food rising by 64 percent and 163 percent, respectively.
Central and western regions posted stronger growth in online spending and online shoppers in third- and fourth-tier cities.
"Ten years ago, people said e-commerce would not take off in China. But as soon as you overcome the payment barrier, consumers here are so much more ready than in other countries to take it on," said Richard McKenzie, a partner at consultancy Oliver Wyman.
With the advent of better logistics, it is no wonder that online marketing is bringing more sales growth, said Vishal Bali, managing director of Nielsen China.
"Physical and online stores don't have to be against each other. That means more connection and integration, which is not simply for retailers but also affects consumer behaviour, manufacturers and other areas of industry," he said.
According to research firm Mintel, the cross-border shopping market is expected to post an annual growth rate of 15 percent from 2016 to reach 1.3 trillion yuan by 2021.
"Haitao, or shopping directly from overseas sites, is likely to be more relevant to brands looking at initial market entry. Retailers and brands should therefore play to their different national specialties when attempting to differentiate themselves from their competitors," said Matthew Crabbe, Mintel's Asia-Pacific director of research.
Another trend the Ministry of Commerce observed is that online players such as Alibaba Group Holding Ltd and JD.com Inc are expanding offline to improve the consumer experience with convenience stores as an emerging market.
For instance, Alibaba and Shanghai-based retail conglomerate Bailian Group Co announced a partnership in February to jointly design bricks-and-mortar stores to deliver enhanced customer services through technologies such as geo-location, facial recognition and big-data driven customer management systems.
CHINA DAILY-XINHUA