'Tea road' takes a Sri Lankan to Chinese home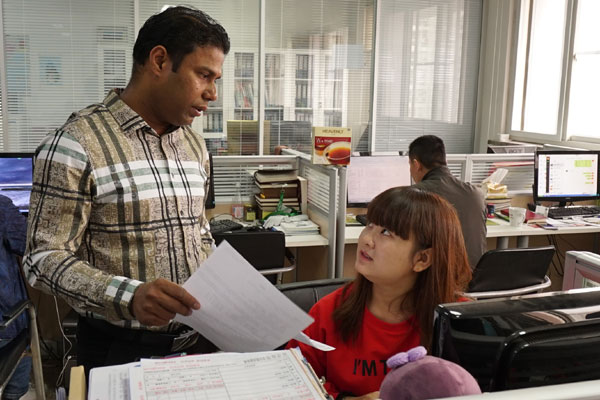 Anura Banda, CEO of Beijing Heavenly Trade Co Ltd, talks to a staff member about the tea business between China and Sri Lanka in Beijing, China, on April 19, 2017. [Photo by Li Xiupeng / chinadaily.com.cn]
But there have been major changes in the market since 2013 when President Xi Jinping proposed the Belt and Road Initiative. More Chinese people began discovering Sri Lanka and its culture and started trying tea from Sri Lanka, according to Cao Zhiwang, marketing manager of Beijing Heavenly Trade Co Ltd.
"Sri Lankan tea is like a baby who was born in China, traveled abroad and returned to China. Few Chinese tea lovers knew about Sri Lankan tea before, but thanks to the Belt and Road Initiative, the sales volume of Sri Lankan tea in Shenyang and Harbin markets has increased a lot since 2013," Cao said.
Transportation between China and Sri Lanka has also become more quick and convenient, which has reduced major costs, said Anura. In 1995, it took about 15 hours to get from Beijing to Sri Lanka and people had to transfer in Hong Kong. Due to direct flights starting in 2014, the travel time now takes only eight to nine hours.
"For the sea freight, it used to take about 28 days. Now it takes us 14 days. There are direct vessels from Sri Lanka to Guangzhou, Tianjin and also Shanghai. It takes only 14 days," Anura said.
After years of development, Anura's tea business in China has increased very fast. His company now imports 20 to 40 containers of Ceylon tea to China and sells Chinese tea to 65 countries all over the world every year.