AmCham: China's growth will give globe a big boost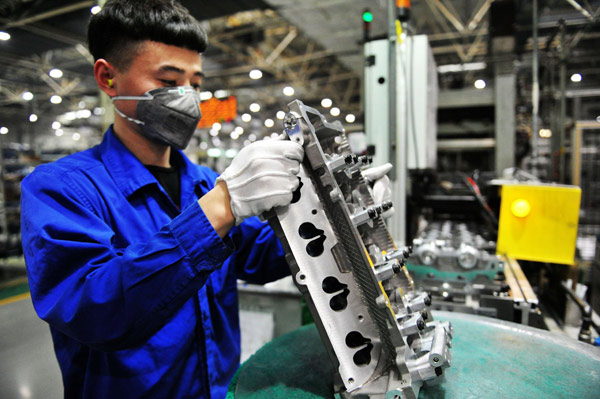 A worker checks components at an engine plant of SAIC-GM-Wuling Automobile Co in Qingdao, Shandong province. [Photo by Yu Fangping/China Daily]
The robust growth of the Chinese economy in the first quarter is a positive sign for the global economy, the head of a US business lobbying group said on Tuesday, calling for further progress in bilateral trade and investment relations.
William Zarit, chairman of the American Chamber of Commerce in China, said that the members of his organization are upbeat about the prospects for the Chinese economy.
Zarit called for progress in trade and investment, hoping that the recent meeting between President Xi Jinping and his US counterpart Donald Trump "will mark the start of tangible progress toward a healthier and more balanced relationship".
In its annual American Business in China White Paper, the US business group acknowledged China's efforts to accelerate reforms and improve trade and investment facilitation through top-level policy designs and basic enforcement.
AmCham China also warned about rising uncertainty in China-US relations as both countries are experiencing an economic transition.
"We are experiencing a clear increase in uncertainty as the US-China relationship enters a new era," Zarit said.
AmCham China called for further reform in China to promote greater trade facilitation through adjusting policies and optimizing procedures designed to assist customs clearance, as well as enabling firms to play an active role in reform.
China so far has set up 11 free trade zones, which serve as platforms for opening investment and trade and boosting industrial upgrading.
The US business group also called for greater transparency in China's regulatory environment and greater openness to foreign companies while applauding China's commitment to pro-competitive and non-discriminatory policies.
China is the largest exporter of goods to the United States. Trade in goods between the US and China increased from $147 billion in 2002 to $579 billion in 2016, according to AmCham China.
Thomas Luedi, a partner of AT Kearney Greater China, a global management consulting firm, said that China remains a major market for US investment despite its economic deceleration.
"Despite its GDP growth deceleration, China has provided continuous high growth rates. To that end, American firms can benefit from the growth opportunity in China," he said.
Luedi added that many US companies will be well positioned to capture investment opportunities in China in sectors related to sustainability such as technology, environmental protection and energy efficiency.