Xiongan New Area: Land of opportunities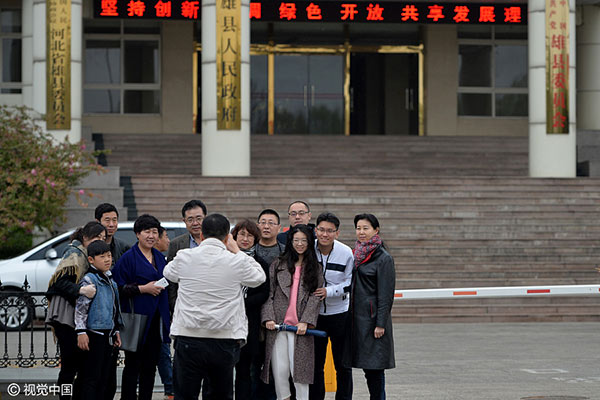 Tourists pose for a photograph in front of the Xiongxian government building in North China's Hebei province, April 8, 2017. The building has become a new attraction after an announcement came that the county would be part of the Xiongan New Area. [Photo/VCG]
XIONGAN NEW AREA — Expansive economic zone in the making, Xiongan New Area is like a magnet for those seeking fortune.
Since an announcement was made April 1, people have crowded squares and streets in front of government buildings in Xiongxian, Anxin and Rongcheng counties, taking photos, exchanging information and looking for places to set up shop.
When a brief property craze died down, private entrepreneurs, internet engineers, scholars, restaurateurs and lawyers came here, joined by ministries and State-owned companies from Beijing. More than two dozen State-owned enterprises have pledged support for development of the new area.
Feng Chuan, 28, drove with his wife and a friend to the gates of Xiongxian county government on the weekend.
"I come to see for myself what Xiongan looks like now, and to understand why this area was chosen. I should be prepared for future opportunities here," Feng said.
Feng quit a well-paying post at Standard Chartered Bank to work with a software firm in Tianjin. "Xiongan will become the capital of innovation in the future. We are looking for opportunities in the internet industry," he said.
"I hope specific plans for the area will be made public as soon as possible," Feng added.
"We hope to start our own business and make the first bucket of money in our life," said his wife Bi Ying, giggling shyly.
A family from Changzhou, Jiangsu province, about 1,000 kilometers to the southeast, drove here overnight to look into the possibility of opening a branch of their restaurant business here.
"People have to eat, right?" said Yu Hongping, the father.
On April 1, China announced plans to create Xiongan New Area, a new economic zone about 100 kilometers southwest of Beijing. The new area spans the counties of Xiongxian, Rongcheng and Anxin in Hebei, and is home to Baiyangdian, a major wetland in northern China.
Chinese leaders hope the new area will help address severe "urban ills" of traffic congestion and air pollution in Beijing, by curbing the capital's population growth and moving non-capital functions out of Beijing.
Chinese President Xi Jinping, who is also general secretary of the Communist Party of China Central Committee, called for efforts to build Xiongan into "a demonstration area for innovative development."
"General Secretary Xi has set the goal, we need to figure out how to realize it, how to innovate," an official with the preparatory committee of Xiongan told Xinhua.
"Xiongan is a move to adjust China's economic and spacial structure," said Xu Kuangdi, a renowned metallurgist and former mayor of Shanghai. Xu is also director of an experts council for coordinated development of the Beijing-Tianjin-Hebei region.
"Xiongan represents a strategic effort to seek coordinated development between big cities and small towns. It is a ground to test new economic growth models and push for supply-side reform," Xu said.
Growth based on innovation, new ideas and methods, not exports or investment, is seen as a solution to China's growth conundrum. Top Chinese leaders have called for efforts to eliminate barriers to innovation and unleash productivity.
Experts said new rules regarding household registration and real estate management may be enforced in Xiongan, which is expected to be an example of a future city in China.
Xiongan New Area will initially cover around 100 square km and expand to 2,000 square km in the long term. Location of the central area and industrial layout, among other details, have yet to be published.
An official with the preparatory committee said they might welcome hi-tech industries such as 5G communications, bio-medicine, artificial intelligence and internet finance industries.
"There will not be large communities like Tiantongyuan in northern Beijing, no broad streets, but a green, organically connected and well-functioning place, a forest city, you might call it," the official said.
According to a government circular on Xiongan, the three counties feature geological advantages, convenient transport, an excellent environment and ample room for development.
"There are never any traffic jams here," said Zhou Jinhua, a retailer who sells doors, in Rongcheng County.