Xiongan New Area should act as an inspiration to HK
Updated: 2017-04-12 07:13
By Zhou Bajun(HK Edition)
| | | | | | | | | |
| --- | --- | --- | --- | --- | --- | --- | --- | --- |
|   | | Print | | Mail | | Large Medium  Small | 分享按钮 | 0 |
Xinhua News Agency reported on April 1 this year that the mainland had decided to set up the Xiongan New Area in Hebei province. It described this as another new area of national significance after the Shenzhen Special Economic Zone (SEZ) and Shanghai Pudong New Area.
Encompassing Xiongxian, Rongcheng and Anxin counties, the new area will cover about 100 square kilometers initially in a key area bordering Beijing, Tianjin and Baoding. The medium-term goal of its development will see this area grow to about 200 sq km. The goal of its long-term development is to expand the area to some 2,000 sq km. In other words, Xiongan will be about the same size as Hong Kong's Lantau Island. It will eventually grow to become an area almost twice the size of Hong Kong.
Established in August 1980, the Shenzhen SEZ started in Bao'an, a county of Guangdong province with an initial area of 327.5 sq km. The actual usable area at that time was only 110 sq km. Today its total area is close to 2,000 sq km. It took Shenzhen just 37 years to accomplish an economic miracle which Hong Kong took over a century to achieve.
Shanghai Pudong New Area was established in January 1993, covering 533.45 sq km initially and now 1,210.47 sq km. A new business district which is home to international finance, commerce and transport businesses and gleaming skyscrapers now occupies what was just rice paddies 30 years ago.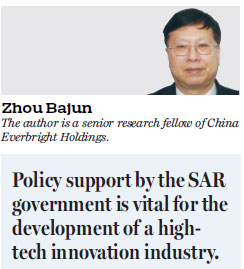 The experiences of Shenzhen and Pudong give people plenty of confidence in development of Xiongan. Today, when Shenzhen is rivaling Hong Kong and Shanghai is becoming an increasingly formidable competitor, the special administrative region has every reason to feel a great sense of urgency. If Hong Kong continues to rest on its laurels instead of speeding up the pace of development, not only will Shenzhen and Shanghai surpass it soon but eventually so will Xiongan!
The fast development of Shenzhen and Pudong proves that the "China solution" is a success. One of the characteristics of the "China solution" is achieving outstanding socio-economic results in a relatively short period by fully utilizing the vitality of socialist market economy boosted by the reform and opening-up drives as well as the efficient allocation of resources.
Facing such daunting challenges as a slow economic transformation, a weak desire for development, a growing wealth gap and worsening social conflict, can Hong Kong borrow a page or two from the mainland's experience?
Some people here believe Hong Kong - under the "One Country, Two Systems" policy - cannot learn from the mainland in terms of its economic development and experience. Such views are wrong in the same way the view of some people on the mainland that "market economy equals capitalism" some years back. The fact is the market economy does not equal capitalism; and the government offering a market economy some pointers does not equate with socialism. Hong Kong has been a victim of its own blind faith in the "magical power" of the market mechanism since the British colonial government became a devotee of the idea of "positive non-interventionism". It more or less gave up on its responsibility to encourage economic reform.
But we cannot say Hong Kong is completely devoid of government-led development plans. The fact is government has long had principal planning in land development and use as well as construction of new towns. The second-term SAR government even prepared a paper entitled "The 11th Five-Year National Development Programme and Hong Kong's Development Economic Summit Report". This offered some pointers on development of pillar industries. One note was that "Hong Kong's financial industry development is restricted by the relatively small scale of local economy and existence of several regional financial centers" and suggested some remedial measures. Unfortunately, the report has not seen any real results so far.
The limited scale of Hong Kong's economy is a hindrance to not just the financial industry but other sectors as well. To overcome this hindrance the SAR government must take the helm and keep the economy on the right course. Policy support by the SAR government is vital for the development of a high-tech innovation industry.
That Hong Kong still does not have a high-tech industry is mainly due to the frustrating reality that "those willing don't have the means; while those with the means don't have the heart, and those in charge are not doing their best".
Hong Kong's manufacturing industry is dominated by small and medium-sized enterprises. These companies don't have the capital to pursue research and development for their own future. Most big conglomerates are only interested in making quick bucks in the property market and stay clear of high-tech manufacturing for fear of long-term commitment and the unknown. As for the local government, it was too faithful to "positive non-interventionism" to take the lead in the 1980s and 1990s before the handover. Since July 1, 1997 the first three terms of the SAR government, still influenced by the "positive non-interventionism" doctrine, did not do much about building a high-tech industry in Hong Kong. The outgoing fourth-term SAR government, on the other hand, did try its best but wasn't able to succeed until quite late because of obstruction from the opposition camp.
The central government's decision to establish the Xiongan New Area is yet another wakeup call for Hong Kong to expand the scale of its economy by speeding up the structural change and creating new growth engines, especially innovation and technology industries. It can also overcome the constraints of its small economic size by actively participating in the Guangdong-Hong Kong-Macao Greater Bay Area project initiated by the central government.
(HK Edition 04/12/2017 page8)