In Canada, tax drives Chinese homebuyers away from Vancouver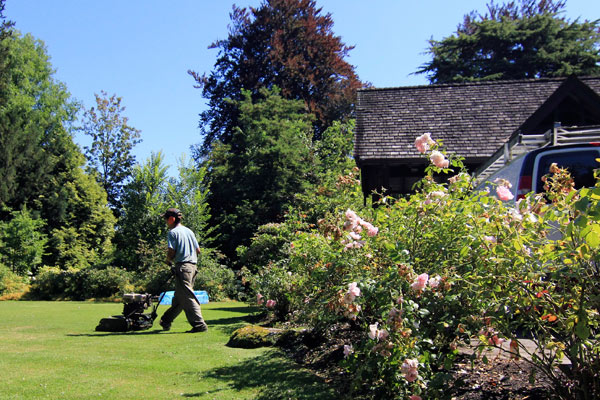 A caretaker works on a yard outside an English-style mansion listed for C$17.9 million ($16.3 million) in Vancouver's historic First Shaughnessy neighborhood. [Photo/Agencies]
VANCOUVER — Fewer Chinese prospective buyers are considering Vancouver properties in the Canadian province of British Columbia, following its implementation eight months ago of a 15-percent tax on foreign residential real estate buyers.
Brad Henderson, president and CEO of Sotheby's International Realty Canada, told Xinhua that the province's foreign buyers tax, which was levied for the first time in Vancouver, has scared off prospective Chinese homebuyers.
His remarks were based on a new study entitled China to Canada: International Home Buyer Insights, which was co-released on March 7 by Sotheby's International Realty Canada and Juwai.com, an international property website for Chinese buyers of overseas property.
"I think what we've seen is a consistent drop in interest not only from people looking on Juwai, but also from people buying in the Vancouver marketplace as a result of that tax," Henderson said.
According to the study, Chinese inquiries for listings in the Vancouver property market fell by 81 percent year-on-year in July 2016, the month the provincial government unveiled its 15-percent tax on foreign buyers of residential property.
The tax aimed to cool a regional housing market that saw extremely high prices and crisis-level shortages of affordable housing.
The drop in queries by Chinese prospective buyers fell throughout the remainder of 2016, down the most by 78 percent year-on-year in August and the least by 9 percent in November.
The study also found that Chinese interest in Canadian real estate has shifted to other major Canadian cities following the foreign buyers tax in British Columbia.
For instance, queries in the city of Calgary in the province of Alberta increased by 1,050 percent in August year-on-year and by 420 percent in September.
Meanwhile, searches on Juwai for Toronto, Canada's largest city in the province of Ontario, rose by 62 percent year-on-year in August and by 72 percent in September.
Yet Henderson stressed that the Vancouver market still appears healthy despite less interest from Chinese buyers.
"The gross domestic product growth in Vancouver is better than that in Canada," Henderson said. "The same is true with the unemployment rate. Business confidence continues to be very high. It continues to be an attractive market (for those) who want to live and work, whether they're from Canada or from outside Canada."
A major problem facing Vancouver is a shortage of developable land for housing, he said. "So, when you have a strong demand and you add to it a constrained supply, you have a market that will have increasing pressures on price."
The market still appears to be digesting the foreign buyers tax, according to Henderson. "We think a number of people sitting on the sidelines just want to make sure that there are no additional policies coming down the pipe or that this is going to have an adverse effect on the market."