Saudi Arabia looks beyond oil for future opportunities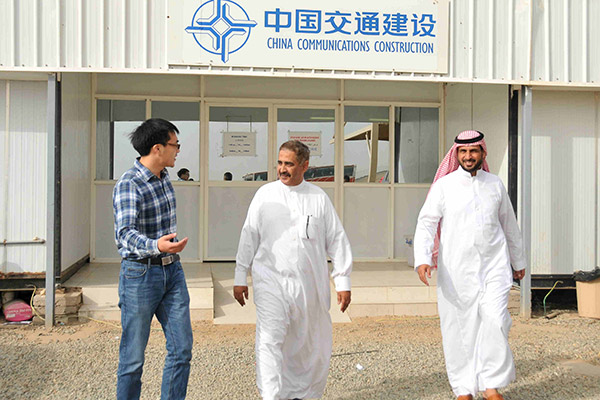 Workers from China Communications Construction discuss a project in Jeddah in Saudi Arabia. [Photo/Xinhua]
Agreements signed for projects between Gulf country and China
China and Saudi Arabia will continue to diversify economic cooperation and develop stronger trade ties in 2017, as their products are complementary and they have reached a consensus on both the "Saudi Vision 2030" strategy and the Belt and Road Initiative, economists said on Sunday.
Eager to diversify its heavily oil-dependent economy, Saudi Arabia announced the "Saudi Vision 2030" growth strategy in 2016, which includes privatizing some State-owned companies and finding more new market growth points from non-oil related sectors.
Long Guoqiang, vice-president of the Development Research Center of the State Council, said on the sideline of the China Development Forum that the Belt and Road Initiative is expected to help Saudi Arabia realize its growth plan, as it can efficiently boost regional infrastructure connectivity, people-to-people exchanges, investment and trade activities on an effective multilateral cooperative platform.
The infrastructure, trade and services network proposed by the Chinese government in 2013 envisions a Silk Road Economic Belt and a 21st Century Maritime Silk Road, covering about 4.4 billion people in more than 60 countries and regions in Europe, Asia and Africa.
Sang Baichuan, director of the Institute of International Business at the University of International Business and Economics in Beijing, said that even though oil trade lies at the heart of bilateral business ties, Saudi Arabia's surging demand for infrastructure improvements-such as next-generation oil refineries, roads, airports and oil tanker and container ports-will provide opportunities for Chinese project contractors and manufacturers.
Their comments came after China and Saudi Arabia signed 14 agreements and memorandums of understanding to deepen cooperation in such areas as energy, investment, finance, culture and aerospace last week.
Among these big-ticket cooperative documents, one is an MOU on production capacity and investment cooperation that has 35 big projects involving $65 billion.
China exports mainly construction machinery, manufacturing equipment, steel, electronics, textiles, garments and household appliances to Saudi Arabia. Chinese-made passenger vehicles and trucks have also become popular in the region. In addition to crude oil, petrochemicals and fertilizer, Saudi Arabia's exports to China include marble, olive oil and sesame seed products.
China became Saudi Arabia's largest trading partner by goods volume in 2015, and Saudi Arabia has been China's biggest crude oil supplier and largest trading partner in western Asia for years.
Bilateral trade between China and Saudi Arabia amounted to $42.4 billion in 2016, data from the Ministry of Commerce show. More than 100 Chinese companies from both State-owned enterprises and private sectors are currently involved in energy, rail, port and telecommunication projects in Saudi Arabia.
"Saudi Arabia is an important transportation and financial hub connecting Asia, Africa and Europe, which makes the country an ideal partner for the Belt and Road Initiative," said Gu Xuebin, vice-president of the Beijing-based Chinese Academy of International Trade and Economic Cooperation.
To further enhance trade ties with the Middle East region, Vice-Minister of Commerce Wang Shouwen said China will also accelerate negotiations for a free trade agreement with the Gulf Cooperation Council for the Arab States of the Gulf this year, which certainly will offer more business opportunities between China and Saudi Arabia.
The GCC is a political and economic union of six Arab states that border the Persian Gulf-Saudi Arabia, Bahrain, Kuwait, Oman, Qatar and the United Arab Emirates-some of which are considered among the world's top fossil fuel-exporting nations.
The two sides are now expected to exchange views on key FTA issues such as trade conditions, rules of origin, technical barriers to trade and economic and technological cooperation, said Wang.