Saudi oil giant eyes more business opportunities in China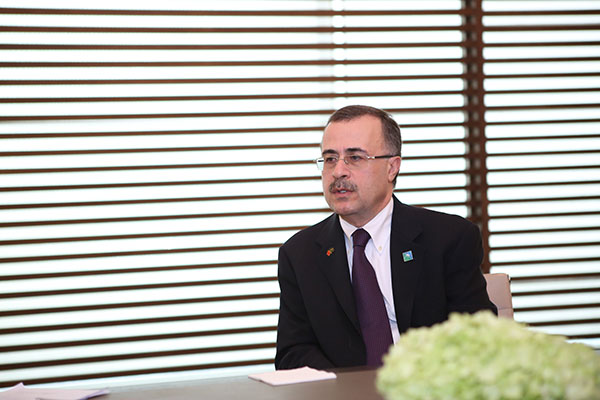 Amin Nasser, president and CEO of Saudi Aramco, discusses the company's strategy with China Daily. [Photo provided to China Daily by Saudi Aramco]
The world's largest oil producer Saudi Arabian Oil Co, also known as Saudi Aramco, will continue to beef up integrated downstream investments in China as part of efforts to bolster its presence in the world's second largest economy, said its President and CEO Amin Nasser.
Saudi Arabia's state oil company is pressing ahead looking for indigenous partners to establish joint ventures in China for downstream businesses – integrates refining, chemical, retail and distribution, said Nasser in an interview with China Daily in Beijing during the ongoing China Development Forum.
Part of its plans include raising the proportion of its crude oil export to China over the next couple of years, a move Nasser said will help China's energy security. Currently, Aramco's crude exports to China are nearly 15 percent of China's total imports.
Aramco's strategic planning in China illustrated the deepening link between the two countries, which has been reinforced by the $65 billion worth of bilateral agreements and memorandums of understanding on production capacity and investment cooperation signed this week during the state visit of Saudi Arabia's King Salman bin Abdulaziz al-Saud last week.
According to Nasser, he met Wang Yupu, the chairman of China Petroleum and Chemical Corp, or Sinopec, and will meet his counterparts at China National Petroleum Corporation – the nation's two state-owned oil giants, with a goal "to identify and expand downstream opportunities for both."
Aramco's investments are geared for the long-term in China's downstream sector as it is not only trying to match such businesses with its export volume of crude oil to the market place but also take a holistic approach that includes R&D and innovative technologies that benefits the environment.
As part of the strategy, Aramco signed on Thursday two memorandums of understanding with Chinese companies during the Saudi-China Investment Forum.
With regards to its plan to go public in 2018, predicted to be the largest in the world, Nasser said "things are going very well". More details will be disclosed in the coming months since the process of the IPO is under way, he added.