Property developer bullish on sales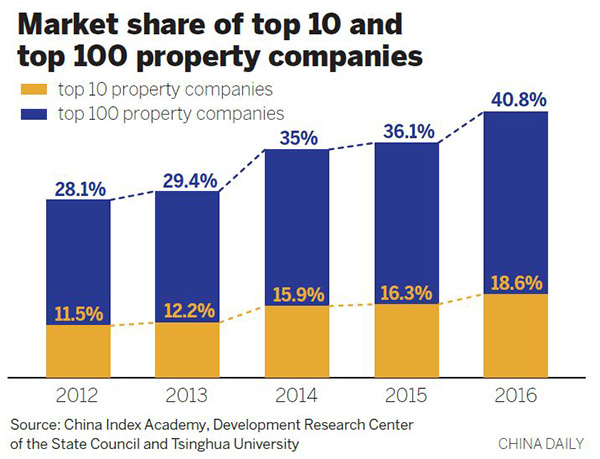 The revenue of some leading Chinese real estate companies will hit 500 billion yuan ($72.5 billion) this year-and the industry will be further consolidated as competition intensifies, a research report said on Thursday.
Most of large-scale property developers are bullish about this year's sales after skyrocketing growth last year, according to research by the China Index Academy, the Development Research Center of the State Council and Tsinghua University.
It said their average growth rate would exceed 40 percent in 2017, boosted by the rosy market, sufficient land parcel reserves and solid cash flow.
Guangdong-based property developers Evergrande Group and Country Garden Holdings, for instance, both aim to realize a sales target of 500 billion yuan this year.
That's while Greenland Group and China Overseas Property Group expected to see their sales exceed 300 billion yuan in 2017.
The report added that the trend of further consolidation and concentration among the biggest players in the property sector continued with the top 100 property developers gaining a market share of 40.8 percent last year, up 4.7 percentage points and reaching a record high.
First-tier cities, such as Beijing, Shanghai, Guangzhou and Shenzhen, and second-tier and mainly provincial capital cities remained the development focus of the major real estate companies.
The report said these cities contributed nearly 80 percent to their total profits.
"The red-hot competition will lead to more mergers and acquisitions in the industry, and the market will also see some reorganization," said Liu Hongyu, head of the real estate research institute at Tsinghua University.
Despite the robust sales growth, major property developers had weaker profitability last year, the report said, and the industry's profit margins would continue to narrow in the current year due to the increasing operational and land costs.