Ultra-rich rise globally; in mainland and HK, they love property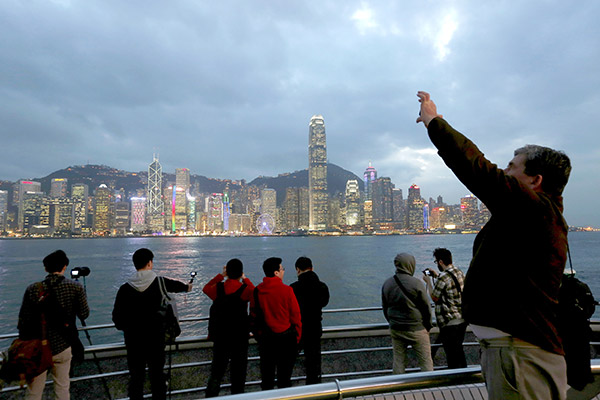 Visitors take photos at the Kowloon waterfront facing Victoria Harbor that overlooks prime property of Hong Kong. Ultra-rich people grew in Chinese mainland and Hong Kong in 2016. [Photo/Agencies]
The Chinese mainland and Hong Kong saw strong growth in the number of ultra-wealthy people in 2016. Their favourite asset class is property, according to a property investment consulting firm.
The number of ultra-high net worth individuals or UHNWIs, with net assets at or above $30 million, last year grew 10 percent on the mainland to 14,310 and 6 per cent in Hong Kong to 4,080, Knight Frank said after releasing its latest research into global prime property and investment.
The company surveyed more than 900 of the world's leading private bankers and wealth management advisers.
Worldwide, the number of UHNWIs rose by 6,340 to 193,490 last year. That number is expected to rise by 43 percent to 275,640 by 2026, with Asia accounting for 91 percent of the growth.
Their number on the Chinese mainland would expand by 140 percent in the coming 10 years, behind Vietnam's 170 percent jump and India's 150 percent growth.
Their number in Hong Kong is expected to climb 40 percent from 4,080 now to 5,710 in 2026.
Nicholas Holt, head of Asia-Pacific research at Knight Frank, said growth of UHNWIs mainly depended on a region or a country's gross domestic product growth and population size.
He said the 6.5 percent mainland GDP growth target set for 2017, although lower than the 6.7 percent growth seen in 2016, is still substantial. Strong growth in new-economy sectors such as high-technology, media, entertainment and healthcare was impressive.
Knight Frank also pointed out that UHNWIs' favorite asset class was primary residences and second homes, especially luxury residential properties.
The report said Beijing, Shanghai and Guangzhou showed the world's highest luxury home price rises last year of 26.8 percent, 27.4 percent and 26.6 percent respectively.
Hong Kong's prime property market growth remained a stable 2.1 percent last year. The value of Hong Kong's prime properties still ranked as the second-most expensive worldwide, behind Monaco's. The UHNWIs in Hong Kong own 3.3 homes on average, compared with 4.3 in Saudi Arabia, four in Taiwan and 3.2 in Singapore.
The world's leading prime residential markets recorded slower growth last year, rising an average 1.4 percent.
David Ji, Greater China head of research and consultancy at Knight Frank, expects prime property prices in China's first-tier cities to continue climbing this year. He expects luxury home prices in Shanghai to increase 8 percent and those in Hong Kong to gain just 5 percent because of stamp-duty curbs.
Wang Shuquan, director of operations at real estate brokerage firm Midland Realty, is relatively bearish view on the mainland property market. He expects property prices to stay stable this year and the prices of properties in the mainland's first-tier cities to drop 10 percent, due to restrictions on purchases.
Sammy Po, CEO of Midland Realty, said he expects Hong Kong luxury home prices to lift 10 to 15 percent this year driven by strong demand and prospects for developers' new projects.