Daqing Volvo sales abroad from May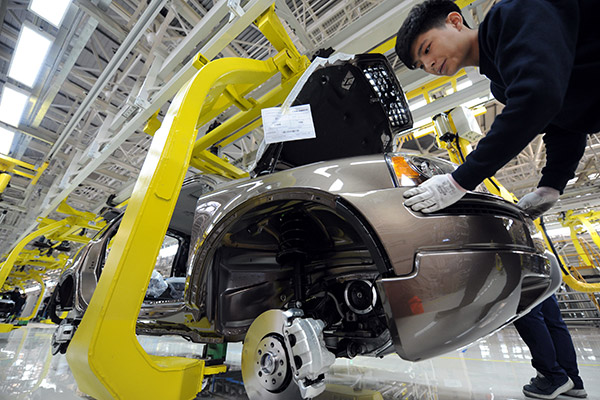 An employee assembles a car at the Volvo Cars Daqing plant in Daqing, Heilongjiang province. [Photo/China Daily]
Premium sedans manufactured at the Volvo Cars Daqing plant, in northeastern China's Heilongjiang province, are expected to start selling abroad in May, a senior executive of the company said.
"We're arranging for dealers from the US, Europe and Asia-Pacific countries to visit our plant," said Yan Shiying, corporate communications manager of Volvo's Daqing plant.
She said the plant's product - Volvo's new S90 saloon - is selling well in the Chinese market.
The model is billed as an advanced premium vehicle with a semiautonomous driving program called Pilot Assist, which gives steering input to keep the car properly aligned within lane markings up to motorway speeds of around 80 mph (130 km/h).
"Since the massproduction started for our S90 T5 and T4 models last November, a new vehicle drives off the production line every three minutes," Yan said.
She said that staffing levels had grown from 600 to 2,000, with more than 30 foreign nationals - and in order to meet the strong market demand, the plant was working increased shifts from this month.
Volvo said it sold 534,332 vehicles globally in 2016, with 99,030 units going to the Chinese market, the brand's biggest single market in the world.
Zhejiang Geely Holding Group Co bought the Swedish carmaker for $1.8 billion in 2010, making Volvo the first luxury car brand to be owned by a Chinese company.
Currently, Volvo has two mainland assembly plants in Daqing and in southwestern China's Chengdu. A third is under construction in eastern China's Zhejiang province.
The plants in China follow the brand's global standards on procurement, manufacturing, technology and quality.
As a result, Yan said, the Volvos manufactured in China shared the same quality as the Swedish-made ones.
The Daqing plant has an initial annual capacity of 80,000 vehicles.
"This year, we will export our cars to the US and Europe. The 3-seated luxury S90 T8 will also start mass production," Yan said.
Volvo said its Daqing plant was a key part of its global manufacturing and managing system and had become a model for intelligent manufacturing in Daqing.
The first phase of the Daqing Auto Spare Parts Industrial Park was put into operation last year, including a 200 million yuan ($29 million) factory producing 200,000 car seats annually.