Volvo, Geely share car plant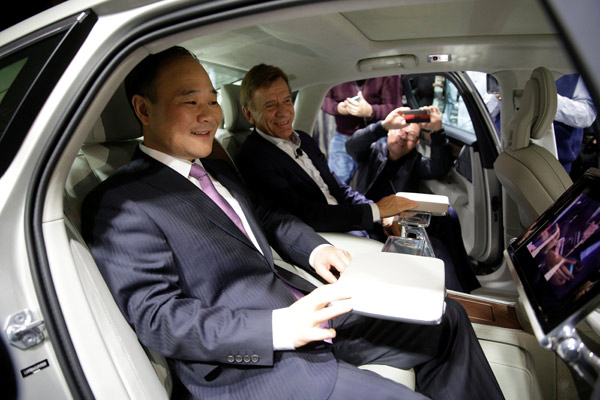 Li Shufu (left), chairman of Zhejiang Geely Holding Group, and Hakan Samuelsson, president and chief executive officer of Volvo, attend Volvo's S90 news conference in Shanghai on Nov 2, 2016. [Photo/Agencies]
Volvo, Geely share car plant Two automakers will soon start producing vehicles at their joint Taizhou factory
Swedish carmaker Volvo announced on Wednesday a series of moves deepening cooperation with its Chinese parent Zhejiang Geely Holding Group Co-a tie-up that's shaping up to show that China can make a success of buying consumer brands.
The two firms will soon start producing cars at a joint assembly plant in Taizhou, Zhejiang province, Volvo said in a statement.
The Taizhou plant, operated by Volvo and expected to be up and running in the current quarter, will produce compact cars based on an "advanced" vehicle architecture the two companies have jointly developed in Sweden.
Both Volvo and Geely are expected to produce small cars at the plant based on that compact modular architecture platform-for both domestic and export markets.
Volvo began exporting its China-made cars last year, shipping its S60 Inscription to the United States.
The automaker is also expected to unveil two stretched variants of its recently launched large S90 premium sedan, including the S90 Excellence. Volvo will build both S90 variants at its assembly plant in Daqing in northeastern China, for sale in China and abroad.
The Taizhou plant will be Volvo's third assembly site in China, along with Daqing and one in Chengdu in southwestern China.
Geely raised auto industry eyebrows when it bought Volvo for $1.8 billion six years ago. Few saw any obvious synergies in marrying a premium Western marque with a Chinese entry brand.
But the two appear to be making it work.
Volvo increased its third-quarter sales in both China and the US by more than one-fifth, and July-September operating profit jumped 62 percent to 2.07 billion Swedish Kronas ($232.5 million).
Geely sold more than half a million cars last year, up 22 percent, and sales in the first nine months of this year were already at nearly 460,000 cars.
"Moving production from Sweden to China, and sharing manufacturing processes and components has been a positive for both Geely and Volvo from a cost savings perspective," said James Chao, Asia-Pacific chief for consulting and research firm IHS Markit Automotive.
Reuters