Nuclear power exec calls for massive expansion of sector
A top nuclear industry executive has called for the mass production of Hualong One reactors and priority to be given to China's third-generation nuclear technology in future nuclear power projects.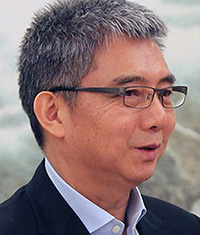 He Yu, chairman of China General Nuclear Power Corp.
He Yu, chairman of China General Nuclear Power Corp, said China should build four to six nuclear reactors annually using the domestically developed third-generation reactor Hualong One to 2020, to ensure the installed capacity of nuclear power in China reaches at least 150 giggawatts by 2030.
"China needs to build at least 10 million-kilowatt nuclear power units each year to achieve the emission reduction plan mentioned in the Government Work Report delivered by Premier Li Keqiang," said He, who is attending the annual session of the National Committee of the Chinese People's Political Consultative Conference.
"The pace of nuclear power projects in recent years is not in accordance with this target, and it's necessary to make sure the nuclear industry is back on track."
China's nuclear power development was put on hold after the Fukushima nuclear disaster in Japan in 2011, with approval for new nuclear plants suspended and a nationwide safety review launched after the incident.
According to He, nuclear energy plays an irreplaceable role in China's energy security and energy structure optimization, while it will also help reduce air pollution caused by coal-fired power generation.
China added about 8 GW of nuclear power capacity last year, boosting its installed capacity to about 34 GW, according to BMI Research, which provides macroeconomic, industry and financial market analysis.
The Hualong One reactor is not only safe and technically mature, but also economically competitive, he said.
China's energy sector is dominated by coal, which accounts for 64 percent of primary energy use, way above the global average of around 30 percent, he said.
The government has pledged that renewable energy will play an integral role in the push for greener growth, boosting the share of non-fossil energy to 15 percent by 2020 and 20 percent by 2030, with coal consumption reduced to 62 percent of energy use by 2020.
China published a nuclear industry white paper earlier this year, detailing policies regarding nuclear emergency preparedness, highlighting a "rational, coordinated and balanced" approach to nuclear security.
China had "the most advanced technology and most stringent standards" to ensure the safe and efficient development of nuclear power, it said.
While developing nuclear power projects in the domestic market, China is actively exploring overseas markets to export its advanced equipment in the sector.
The United Kingdom government has started an assessment of CGN's plan to build a nuclear power plant at Bradwell in southeastern England. The chances are high that the Hualong One reactor will pass the UK's approval.
"CGN has vast experience building nuclear power facilities in China and there should be a reasonable chance that the parameters are met," said Joseph Jacobelli, a senior analyst with Asia utilities and infrastructure research at Bloomberg Intelligence.