Goals set for nuclear energy development in next five years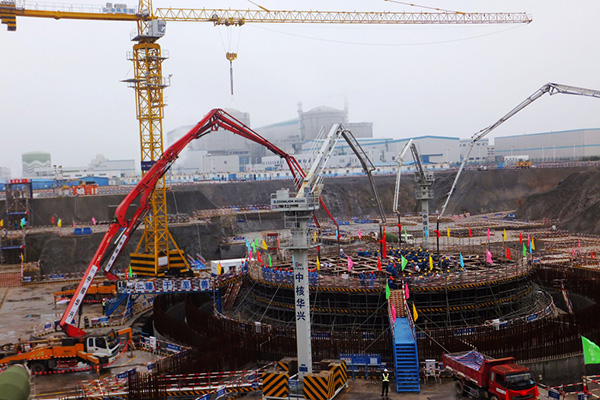 The Fangchenggang Nuclear Power Plant is under construction in Hongsha village, Guangpo county, Fangchenggang city, South China's Guangxi Zhuang autonomous region, December 24, 2015.[Photo/IC]
The National Development and Reform Commission and the National Energy Administration have officially issued the 13th Five-Year Plan for energy development, China Securities Journal reported Tuesday.
Throughout the next five years, over 30 million kilowatts of nuclear energy facilities will be under construction in China. By 2020, China will have 58 million kW of installed nuclear power, up 16.5 percent year on year.
The country will continue developing nuclear power safely and efficiently while also speeding up the construction of nuclear projects in coastal regions, according to the development plan.
The country will develop some major nuclear technology projects, start the construction of CAP1400 demonstration project and create a high temperature gas-cooled reactor demonstration project.
The country will also launch some independent innovation projects, including smart small-and-medium sized reactors, commercial fast reactors and 600,000 kW high temperature gas-cooled reactors.
Compared with other types of energy, safety is the top priority for nuclear energy, including the safety of equipment, management and the site of a plant.
According to the plan, the share of non-fossil fuels will rise to more than 15 percent and the share of natural gas should reach 10 percent by 2020.
China's total energy consumption will be capped at 5 billion tons of coal equivalent by 2020, representing an annual uptick of about 2.5 percent between 2016 and 2020.