Eight nuclear reactors to be built this year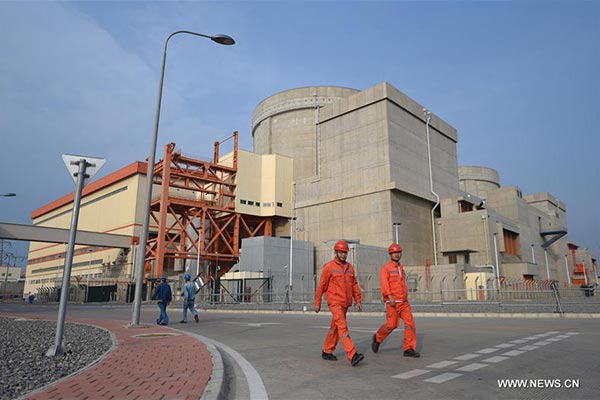 Workers walk by the No 3 and No 4 power generation units of the Hongyanhe Nuclear Power Station in Wafangdian of Dalian city, Northeast China's Liaoning province, Sept 22, 2016. [Photo/Xinhua]
China plans to beef up its nuclear power sector in 2017, kicking off construction of eight reactors this year with installed capacity totaling 9.9 gigawatts, the National Energy Administration said.
The NEA has issued new guidelines on nuclear power development.
These include Unit 1 at the Sanmen nuclear power plant in Zhejiang province, Unit 4 at the Fuqing plant in Fujian province, Unit 4 at the Yangjiang nuclear power plant in Guangdong province and Unit 1 of the Taishan plant in Guangdong, adding 6 GW of nuclear power capacity.
China will also accelerate the preparations for more reactors, such as Sanmen Units 3 and 4, Ningde Units 5 and 6 in Fujian, which will in total generate 9.9 GW after being put into operation.
The rollout is necessary for China's nuclear sector to develop step by step to meet high safety requirements, said Han Xiaoping, chief information officer at Beijing-based industry consultancy China Energy Net Consulting Co.
"Building nuclear power stations requires at least 10 years of preparatory work, including the eight units, which are about to kick off construction soon," Han said.
Han said China is at the forefront of nuclear power technology worldwide, with rich experience in building and operating nuclear power stations.
After Japan's Fukushima nuclear accident in March 2011, China had set higher standards in the nuclear sector to ensure safety, he said.
The country is moving to strengthen technical cooperation with Russia and the United States in the nuclear power sector and further promote cooperation with Pakistan, Turkey, Romania and Argentina.
Han said it is necessary for China's nuclear power utilities to tap overseas markets, to release capacity in the context of overcapacity in the domestic power sector.
He added as supply was far greater than demand in China's power sector, the country should focus on the development of low-carbon energy, especially the nuclear energy, to enhance the effective energy supply.
Xu He contributed to this story.