China still most attractive destination for FDI in 2017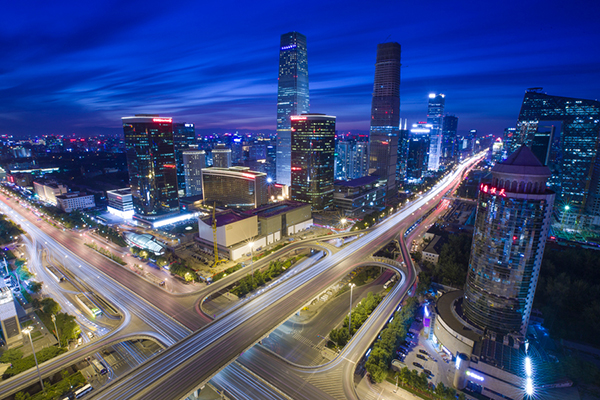 Night view of Beijing's skyscrapers, office buildings and highways. [Photo/VCG]
China will continue to be the world's most attractive destination for global investment this year, with new materials, new technologies and the healthcare industries being the new focus, experts said on Tuesday.
The reasons behind the trend are the mainland's relatively fast economic growth, structural reforms and policies to further open China up to international markets. That's according to a report released by the China Center for International Economic Exchanges, a government think tank.
The growth rate of China's foreign direct investment was expected to reach over 15 percent in 2017, up from 4.1 percent growth in 2016, CCIEE vice-president and former vice-minister of commerce Wei Jianguo told a news conference on Tuesday, at a Beijing economics seminar organized by the center.
China has been making efforts to open more segments to foreign investors to further facilitate its opening up to global markets.
The measures have included the government simplifying the approval process for overseas companies, reducing various restrictive measures and amending laws on foreign investments.
The report said that the total volume of global investments in the current year would rebound with estimated growth of 10 percent, with the world economy recovering at a moderate pace and trade growth having accelerated.
Last year, China's FDI increased by 4.1 percent on a year-on-year basis to $118 billion, according to data from the Ministry of Commerce.
Data also showed foreign-funded businesses, which account for less than 3 percent of the number of companies operating in China, generated nearly half of the nation's foreign trade volumes and one fifth of tax income over the past four years.
CCIEE Vice-President Wei Jianguo said that in the future, foreign investors could enjoy equal rights in the market with their Chinese counterparts, as the government had been briskly improving its management of FDI to give fair opportunities to all players.
"But relevant departments and local governments should remain cautious and discreet when introducing foreign investments," he said.
"They need to look for higher-level investments."
Yang Xiyu, vice-president of the Institute of Boao Forum for Asia, told China Daily at the Beijing seminar on Tuesday that China had entered a stage of introducing "higher-quality" foreign investments, which needed to be suitable to the country's current conditions and meet the needs of local development.