Millennials sparkle with diamonds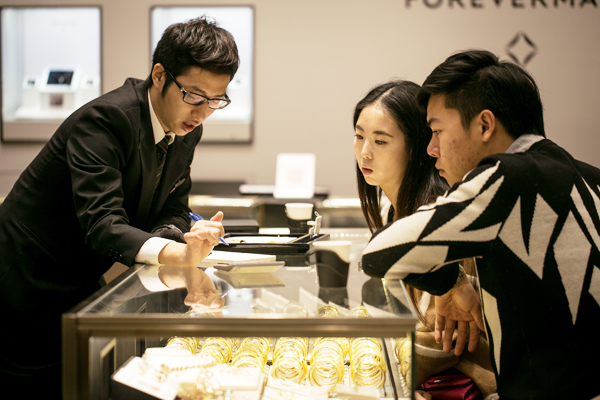 An employee assists customers at a Chow Tai Fook Jewellery Group Ltd store in the Central district of Hong Kong. BLOOMBERG VIA GETTY IMAGES
Young women splurge on new designs and affordable jewelry
The rise of the millennials-people aged 18 to 34-as an influential consumer group in China is altering the traditional notion that diamonds are a symbol of love, worn the most during engagements, weddings, anniversaries and other such occasions.
Now, diamonds spell fashion and are perfect for self-expression. The trend has led to new designs and marketing strategies of diamond sellers.
For instance, Chow Tai Fook Jewellery Group, a renowned Hong Kong-based jewelry maker, is taking the lead in pleasing the younger consumer group with new designs.
That was perhaps inevitable because about half of Chow Tai Fook's customers are the millennials. It owned about 2,070 jewelry outlets in the Chinese mainland as of September last year, according to the company.
Over the last two fiscal years, however, the brand has seen sales decline due to a weakening demand in the luxury retail market in China.
For 2016 March-Sept period, its sales revenue reached HK$21.53 billion ($2.78 billion), down 23.5 percent year-on-year, according to its earnings report.
It is now pinning its recovery hopes on the spending potential of the millennials. Not without a reason.
A report from international advertising agency J. Walter Thompson found that over 40 percent of Chinese women regard financial independence as more important than marriage, and over 30 percent of Chinese women define financial independence as success.
In the context of modern diamond products, the typical consumer is a single woman with a decent job. Apart from diamond rings, she also likes to buy diamond earrings and necklaces. Diamonds have become symbols of achievement and social status.
Neil Wang, president of market research agency Frost&Sullivan Greater China, said the sales and marketing of jewelry is different from other sectors, as the function of jewelry is simple, and their materials tend to be uniform. Therefore, the styles of products, or the added value of art, are the soul of communications.
"The sales of concept and personality features of products is meant to add some cultural connotations to the brand. It will be easier for consumers to distinguish the products, and other brands won't be able to copy them," he said.
Wang further said the relatively low price is another factor that attracts young consumers.
"The sales performance of Tiffany & Co has not been very good in recent years. Now, on the official website of Tiffany, there are product categories that are priced lower than$500 and something even lower than $250. Those are prices that are more affordable for the young. Tiffany said the number of products that are below$500 is growing at a double-digit rate."
According to a recent report released by De Beers, the largest diamond producer in the world, in 2015, millennials in the United States,China, Japan and India, the four biggest diamond markets, bought shiny pieces of carbon worth about $26 billion, or 45 percent of the total retail sales.
But Chinese millennials are particularly fond of diamonds. They now account for nearly 70 percent of China's diamond sales, much higher than other comparable markets.
For instance, Mandy Zhang, 25, a Beijing denizen, owns four branded diamond-studded rings made by Tiffany & Co, Cartier, Bvlgari and Van Cleef & Arpels. Their prices range from 10,000 yuan($1,458) to 30,000 yuan.
"I don't think that a diamond ring is a symbol of marriage because designs of my choices are fashionable and more suitable for young women. I also bought some earrings with diamond decorations," she said.
"I've some pearl accessories as well, but my favorite is still diamond, because diamonds look stunning, pretty and stylish when they sparkle."
That perception, and the attendant popularity of diamonds among China's millennials, can be attributed to Western lifestyle. Instead of gold and jade, which are still popular among older generations, diamonds are preferred by younger Chinese for self-expression. Their favorite brands include Harry Winston and Tiffany & Co, industry observers said.